Last Updated on 2023/08/09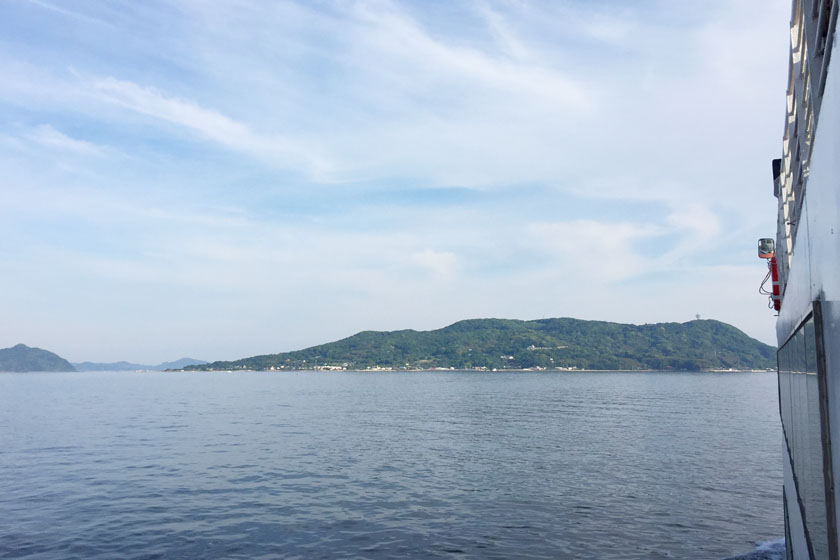 Nokoshima is a small island located in Hakata Bay, with a circumference of approximately 12 km and a population of about 650 people. Nokoshima has a long history, with discoveries of pottery dating back to the Yayoi period (10th century BC to 3rd century AD). During the Edo period, it flourished through shipping industry. Currently, Nokoshima's main industries are agriculture, fishing, and tourism.
From Fukuoka's central district of Tenjin, you can reach Nokoshima in about 1 hour using a combination of bus and ferry. The ferry takes approximately 10 minutes.
It is amazing to find an island so close to the center of Fukuoka City, with flowers blooming all around, fruit abundant, and friendly people.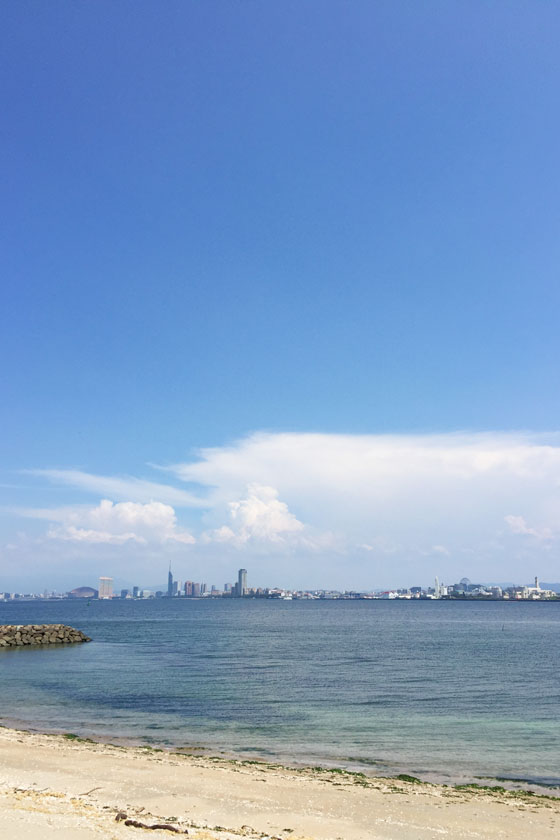 The view of Fukuoka city from Nokonoshima is very nice. It sometimes looks like a mirage. When you are on Nokonoshima Island, you will feel relaxed and away from the hustle and bustle of the busy city.
Just a short ferry ride and to visit Nokonoshima Island will enable your trip to be a very memorable one. Let's go to Nokonoshima Island!
Nokonoshima Island was featured in a famous American travel magazine
Nokoshima was selected in the 2018 special feature of the renowned American travel magazine, Travel + Leisure, as one of "The 14 Most Beautiful Islands of Japan," along with Ishigaki Island (Okinawa) and Chichijima (Ogasawara Islands).
Travel + Leisure
The 14 Most Beautiful Islands of Japan.
"05 of 14 Nokono Island"
Ferry to Nokonoshima is available from the Meinohama Ferry Terminal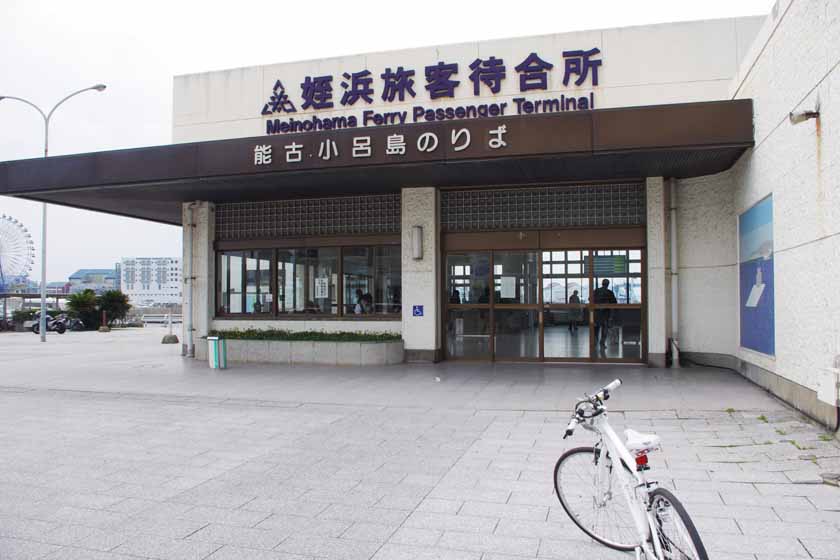 Ferries to Nokonoshima depart from the Meinohama Ferry Terminal. You can take a bus from Hakata JR station, Tenjin area or Meinohama subway station to the ferry terminal.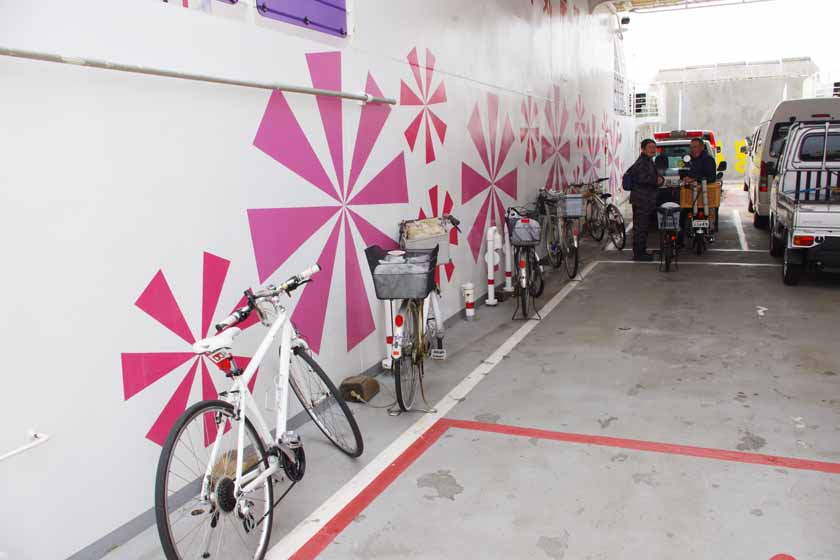 The ferry is "Fukuoka Municipal Ferry Service". The ferry fare is 230 yen for adults and 120 yen for children one way. Bicycles cost 120 yen each way. Cars can also be loaded on the ferry.
Please note that in October, when the cosmos is in bloom, and on weekends when it is a good day for a holiday, there may be long lines at the ferry terminal and you may not be able to board the ferry all at once. A marine taxi may also be available.
>> See the Access to Nokonoshima Island
Gourmet Nokonoshima "Which cafes and restaurants should I visit?"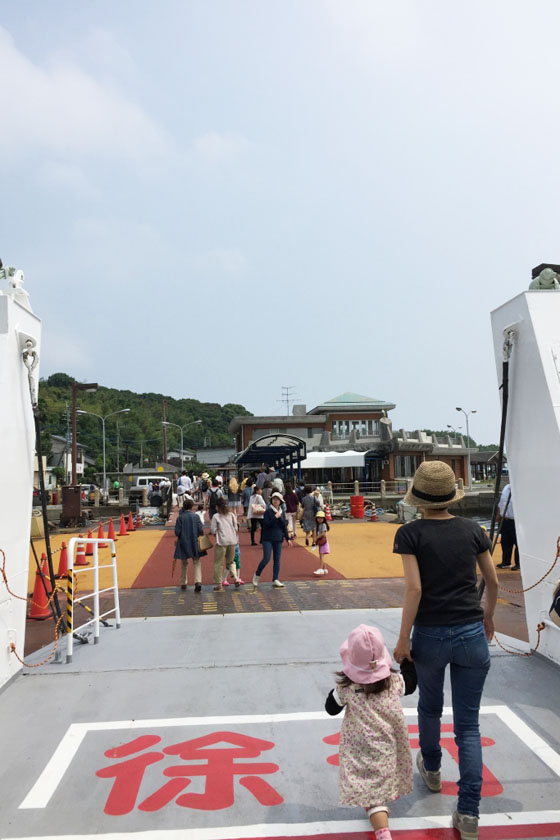 The ferry arrives at the Noko Ferry Terminal on Noko Island. As soon as you arrive, you will feel the extraordinary mood of the island and be excited.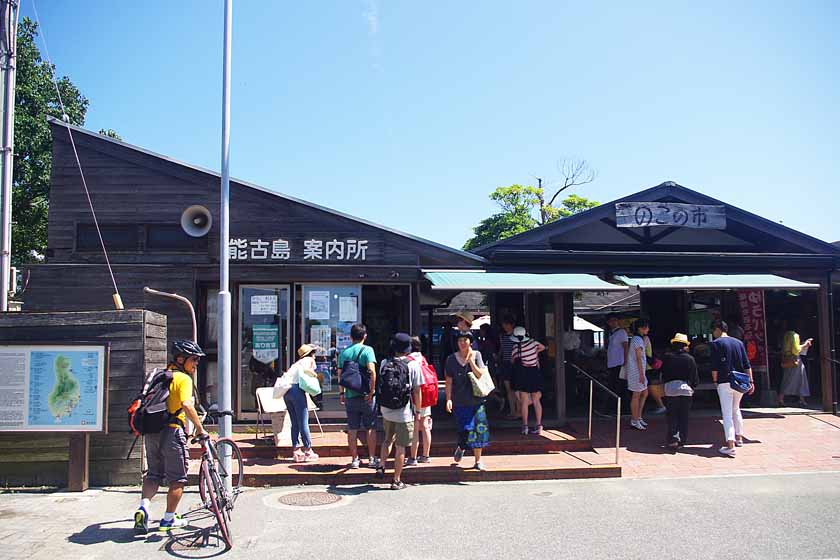 When you leave the Nokonoshima ferry terminal, "Nokono-ichi market" comes into view.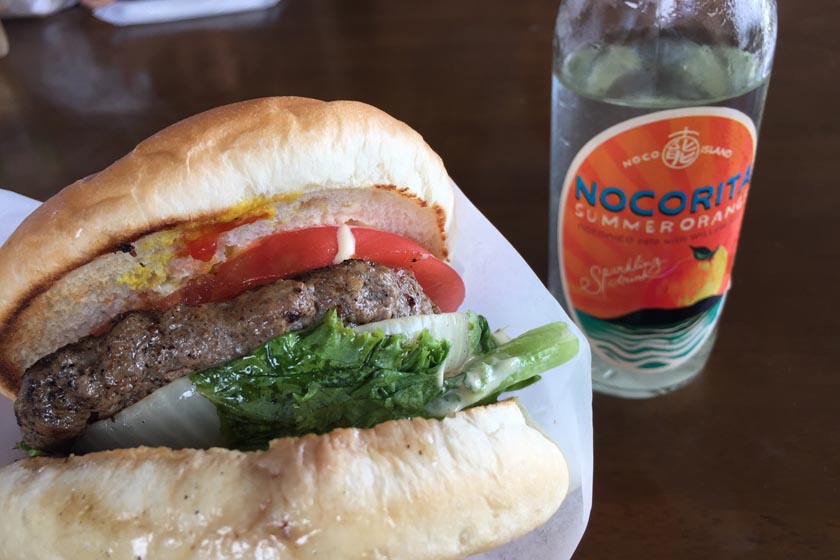 In Nokono-ichi, there is a bento and delicatessen shop serving delicious fried food "Nokono-tei," Nokonoshima's original hamburger shop "Noko Burger," a bike rental store, a bakery, and a ramen shop.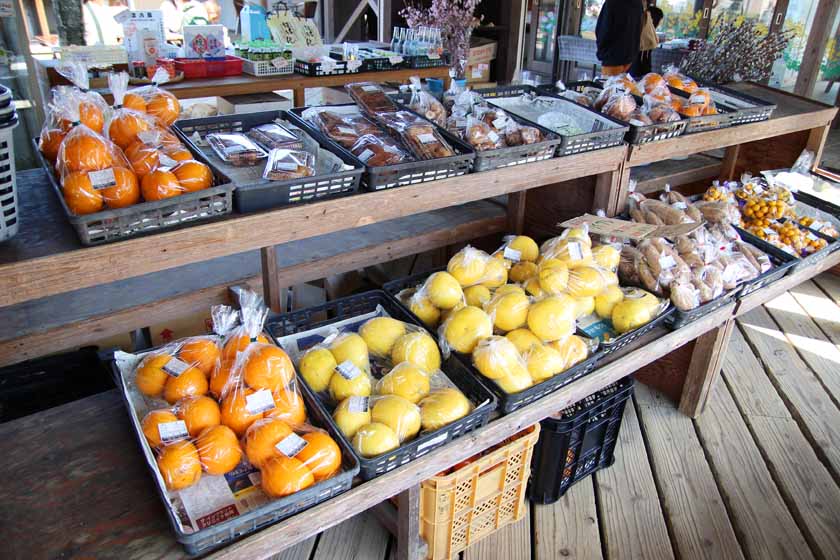 One of Nokonoshima's main industries is agriculture, and citrus fruits are very popular. Sweet summer oranges from April to June, and new summer oranges (hyuganatsu) from May to July. Biwa (loquat) also bear a lot of fruit around June. At the market, seasonal fruits can be purchased at reasonable prices, making it a good place to buy souvenirs.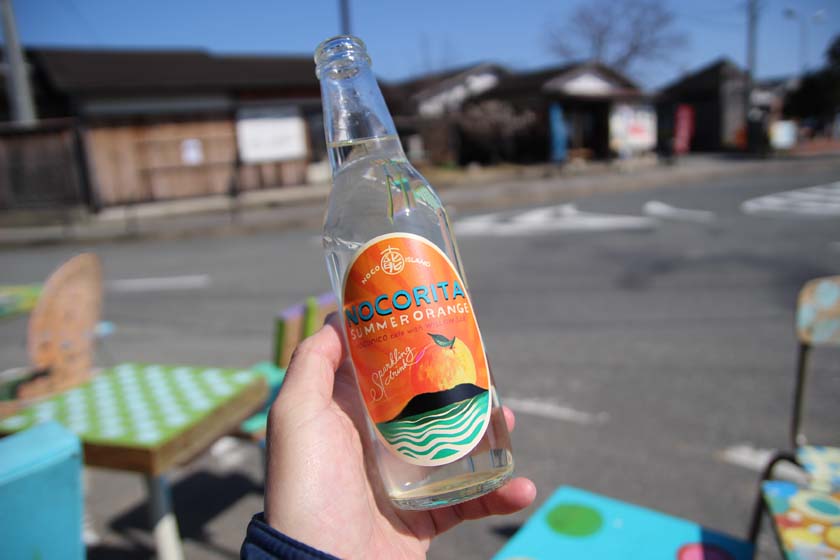 Nokonoshima's original drink "NOCORITA" made from the juice of the sweet summer oranges harvested on Nokonoshima, is a must-try drink when you come to Nokonoshima. It can be purchased at various stores on the island. Along with another Nokonoshima's cider "Nokonoshima Cider," it has a cute design and makes a great souvenir.
Café Kamome – At home café with a view of the harbor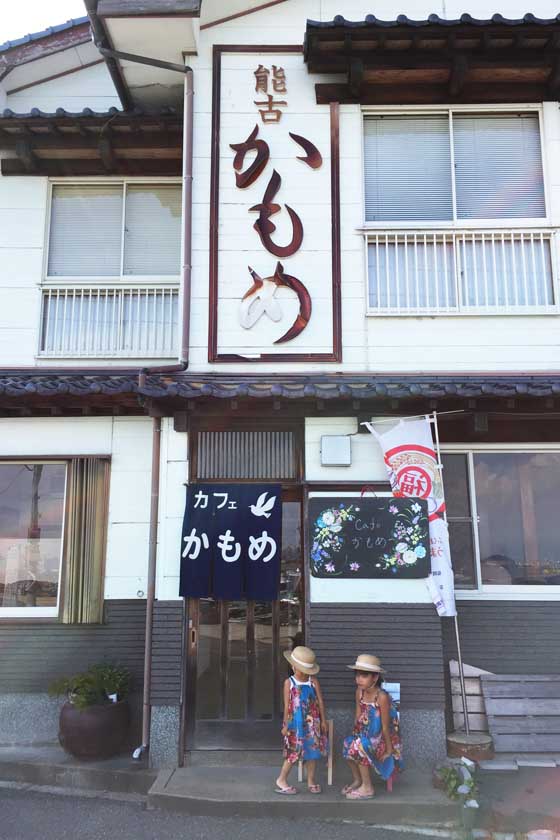 There are several cafes and restaurants on Nokonoshima, but for lunch, I recommend the lunch set meal at Cafe Kamome.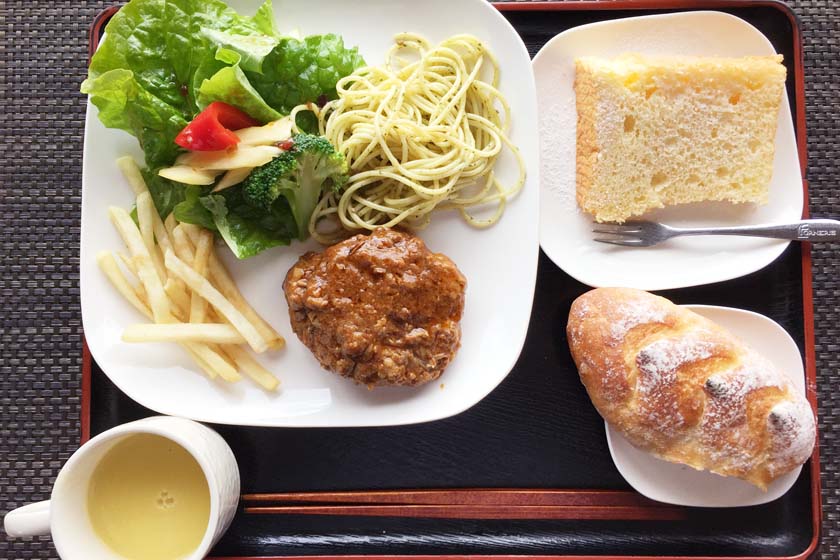 Its breads and chiffon cakes are very nice. Furthermore, you can enjoy and relax with the nice view of port. The staff who work here are so friendly and kind.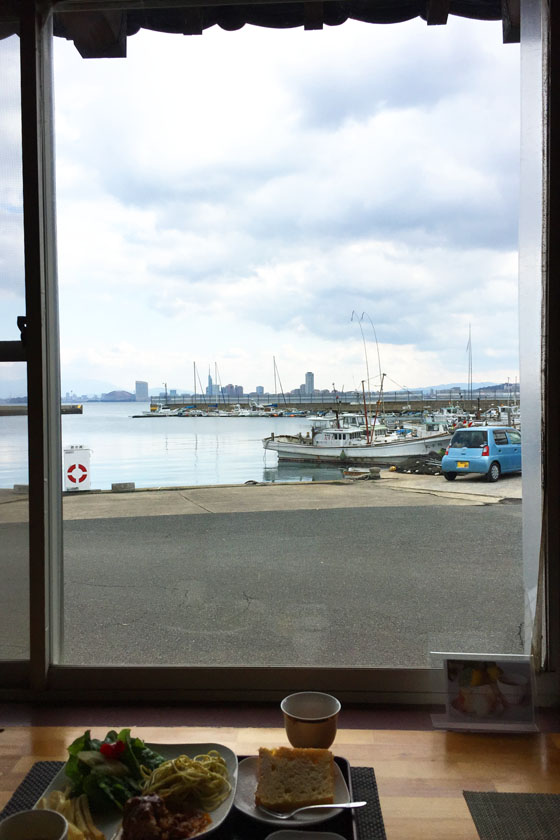 Café Kamome
Address: Noko 473, NIshi-ku, Fukuoka City
Opening Hours: 11:00 – 17:00
Closed on: Thursday and Friday
TEL: 080 8588 0071
Enjoy the slow life in Nokonoshima at Nokoniko Cafe
"nokonico cafe" is one of the popular cafes on this island.
It stands in front of Noko Ferry Terminal and its artistic design catch your eye easily. The owner of this café was a French man who was fascinated by the charm of this island. Then a nice couple took after this café and have made it cozier café. This is my one of my recommendable cafés.
Don't forget to check Noconico Cafe's Twitter in advance for opening hours and non-opening day.
Noconico Café
Address: Noko 457-1, Nishi-ku, Fukuoka City
Access: In front of Nokonoshima Ferry Terminal
Opening Hours: 11:00~19:00 *Please check their "Twitter"
Closed on: Irregular, rainy days, winter season
TEL: 092 892 7201
URL: Twitter (@noconicocafe)
When it comes to seafood on Nokonoshima, "Zakko" is the place to go!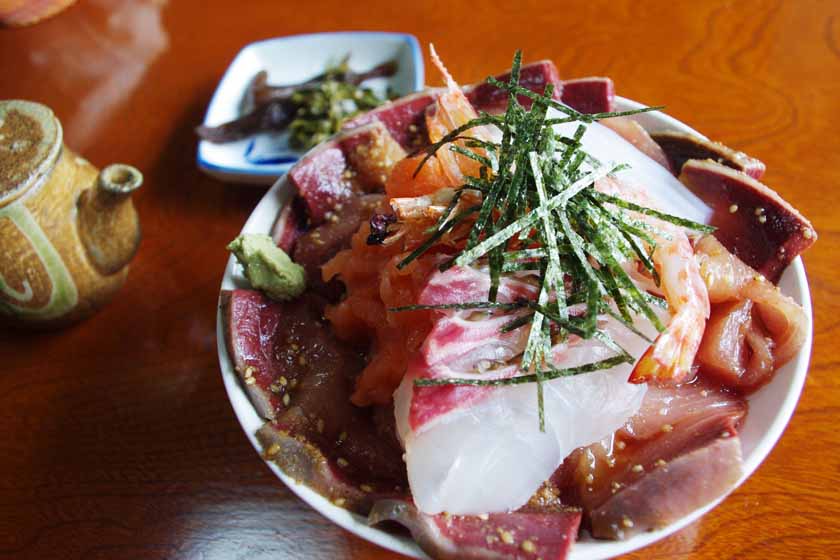 On Noko Island, which is surrounded by the sea, the fish industry obviously thrives, it takes a very important industry alongside agriculture and sightseeing. Fishing harbor is just in front of the ferry terminal.
The fishing around the island brings rich resource, such as fish and shellfish, clam shells for collecting, and seaweed, in addition, these days oyster cultivation has stared, and they have been successful with branding. The name "Manyou-gaki (oyster)" has become very popular.
When it comes to fresh fish dishes on this island, I would like to recommend a restaurant called "Zakko" that always serves fresh fish caught that morning. The fresh fish ball or Zakko set meal, full of fresh fish and shellfish, are very popular.
Zakko
Address: Noko 462, Nishi-ku, Fukuoka City
Access: Short walk from the Nokonoshima Ferry Terminal
Opening Hours: 11:00 – 18:00 *Ends when fish are sold out
Closed on: Monday
TEL: 092 891 7420
URL: Zakko's facebook
Nokonoshima Island Park is fun for families, couples, and even for solo tourist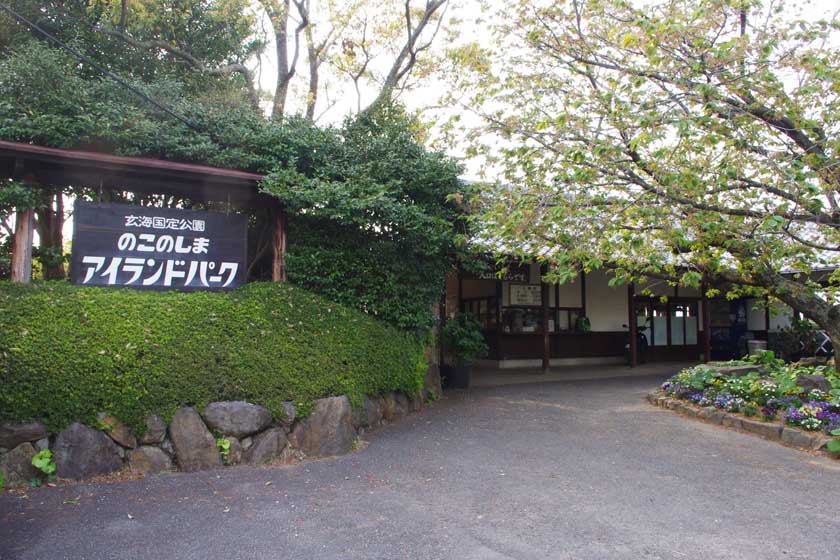 Noko Island Park is 150 thousand square meters (37 acres) of natural botanical park that is two times of the area of the paypay baseball dome that is in the north of Noko Island.
Nokono-shima Island Park is located on the mountain which was reacclimated by a founder called Kosaku Kubota with his hoe and opened in April 1969. I was so impressed by frontier spirit that changed a plain field into a beautiful park.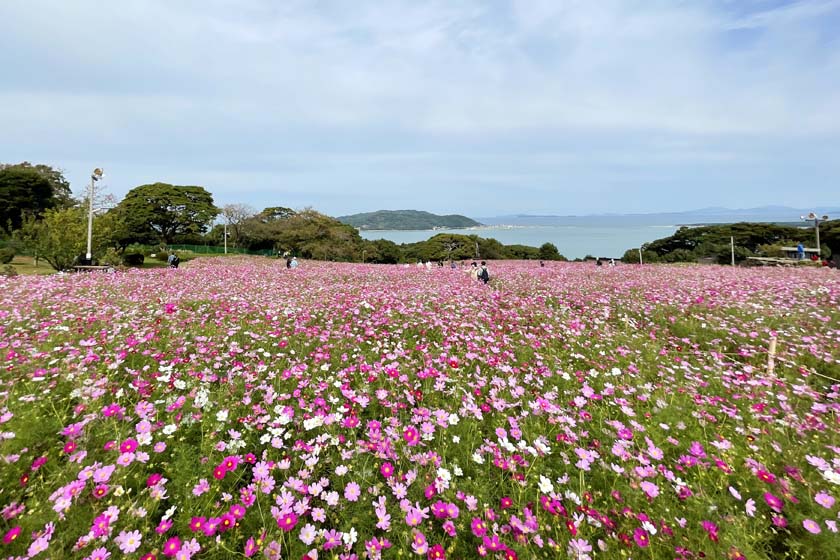 You can see flower gardens here and there in the park. It is very pleasant to the eyes. The most eye-catching garden is one called the "Panoramic flower garden". The contrast with the colorful flower garden and the blue sea takes my breath away.
Breathtaking scenery of blooming flowers in that garden depends on each season, for example from the end of February to the middle of April it is a field with mustard flowers, from the end of March to the beginning of April cherry blossoms are in bloom, from early October to the middle of October there are early blooming cosmos, and from late October to early November there are late blooming cosmos. You can take memorable photos in the garden covered with those flowers.
Furthermore, you can enjoy a picnic and relax in the "Panoramic flower garden" grass area.
In this park there are some restaurants, barbeque sites and accommodation are available. This park offers a lot of family-friendly facilities such as a candy shop, a small animal garden, swings, handmade wooden athletics field and mini golf called "Noko-noko ball" and so on.
The distance to the garden is just about three kilometers (1.9 miles) to the park and it takes 13 minutes by a bus from the Noko ferry terminal. On the good sunny day, some take a walk or rent a bicycle (must be an electric bicycle!). It is an uphill ride or walk from the ferry terminal, however some nice viewpoints where you can see the Hakata bay on the route entertain you.
When walking on Nokonoshima Island, please remember to bring something that makes sounds such as a bell with you to avoid wild boars which inhabit this island.
Nokonoshima Island Park
Address: Noko 1624, Nishi-ku, Fukuoka City
Access: 13 minutes by a bus from the ferry terminal
Opening Hours: 9:00 – 17:30 Monday to Saturday and winter season, 9:00 – 18:30 Sunday and National Holidays
Closed on: Open all year around
Admission Fee (per person): Adult (Over high school student): JPY 1,200, Child (Elementary and junior high school student) JPY 600, Infant (3 years old and over) JPY 400
TEL: 092 881 2494
URL: Nokonoshima Island Park Website
Shirahige Shrine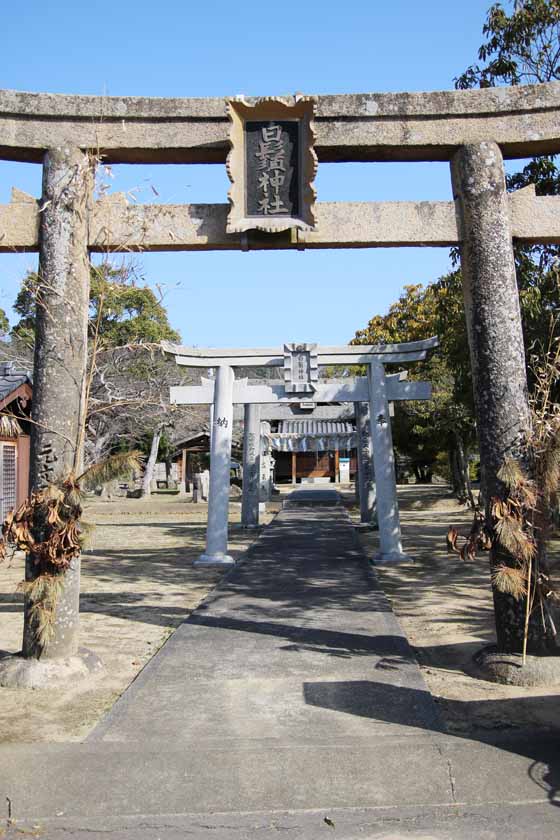 Shirahige Shrine is dedicated to the island gods and has been worshiped by the local people who live here. It is estimated that the shrine was established several thousand years ago. The sacred main gate that is called "Torii" in Japanese was contributed by a cargo vessel ship owner in 1689 in the Edo period.
There are some must see things like as a sculpture of a dragon and a picture of a sacred horse in the main shrine.
A festival called "Okunti" on the 9th of October, and a festival called "Omaturi" on the 28th of November is to be held every year.
On the autumn festival called "Okunti", "Miyaza" is a religious festival showing thankfulness to the gods and is held by the special group that consisting of local people. This festival remains in the west Japan area like Kyushu and Kinki. The ritual follows the rules and has succeeded since ancient days.
Fukuoka City designated it as one of the important intangible folk culture assets. You can watch the original culture on the island. I recommend visiting here on this precious festival day.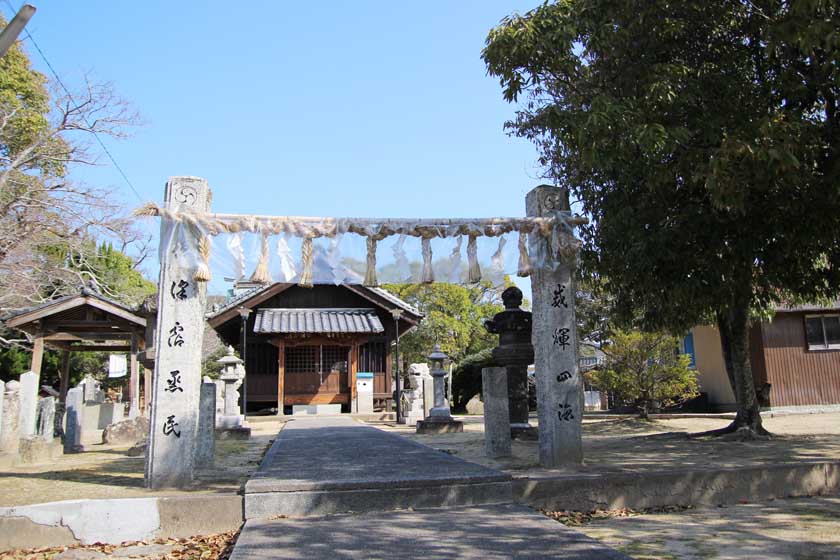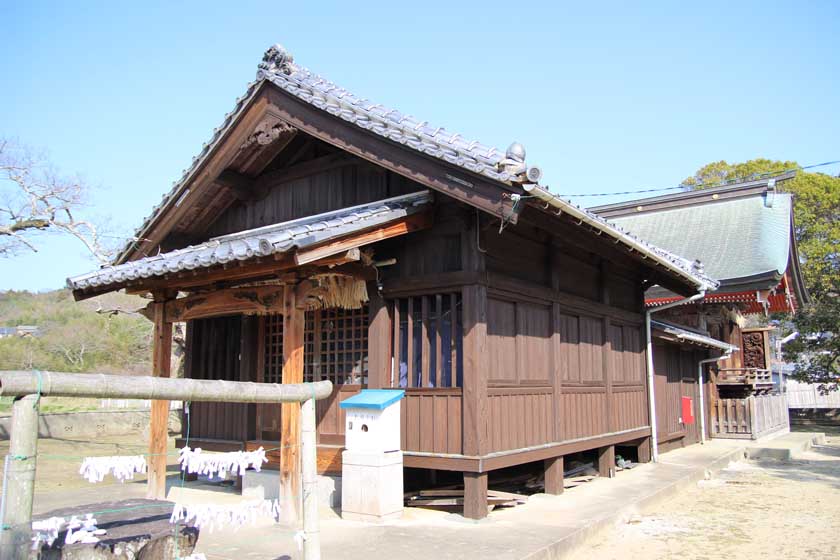 Shirahige Shrine
Address: Noko 719, Nishi-ku, Fukuoka City
Access: About 7 minutes on foot from the Nokonoshima ferry terminal.
Eifukuji Temple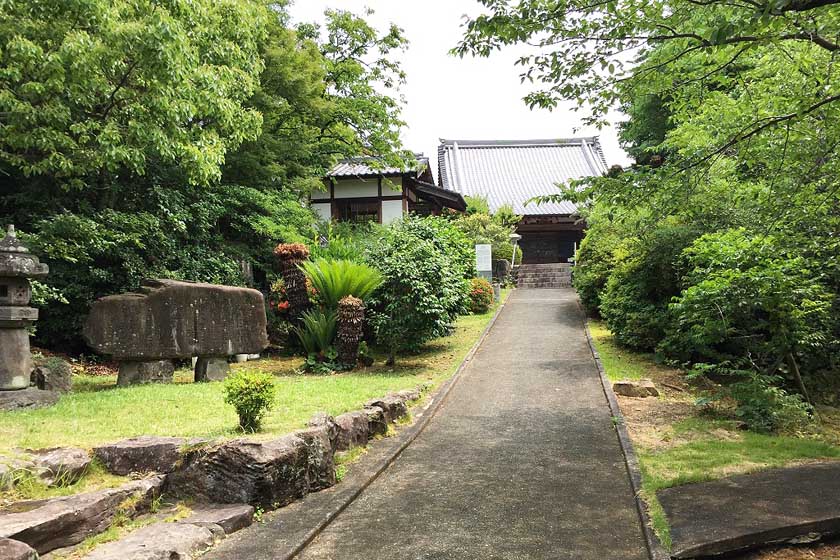 Eifukuji Temple, a Zen temple of the Soto sect, is located on the way to the Noko Museum from the Nokonoshima ferry terminal. This temple is said to have been founded before 1602. Eifuku-ji is also the terminus of Kinryu-ji Temple in Imagawa, Chuo-ku, Fukuoka City, which is known as the grave site of Kaibara Masuken.
Eifukuji Temple
Address: Noko 481, NIshi-ku, Fukuoka City
Access: About 5 minutes on foot from the Nokonoshima ferry terminal.
Noko Island Museum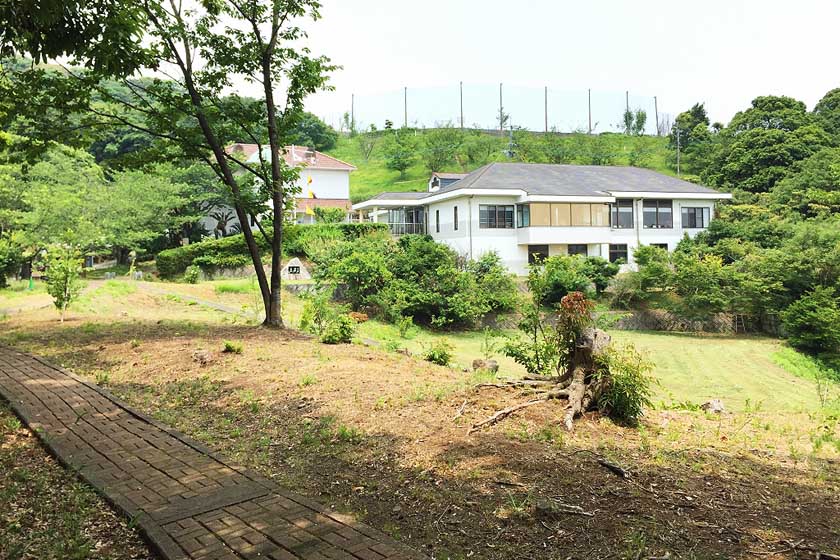 Noko Island museum is located on the top of hill with a good view and is focused on the history about the Hakata Bay. It displays a big model of cargo vessel and the materials about folk customs, and the art works of people who were born on this island, and so on. We can learn about the history of Noko Island and culture there.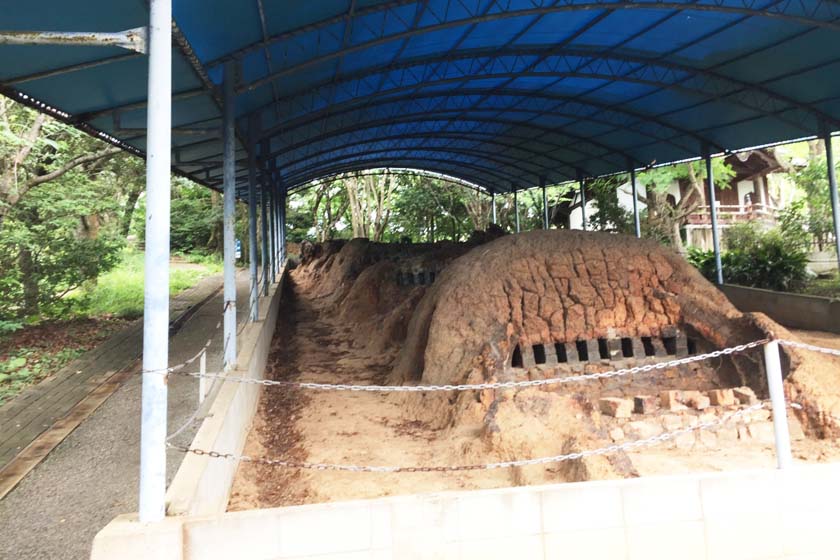 There is the ruin of the kiln of Noko Yaki that is 10 minutes away from the ferry terminal. The length of kiln is a total of 22 meter and was used at the middle of Edo era, from 1764 to 1787. This kiln is known as a very precious relic, because some fragments, ceramics from two schools, Arita ceramics and Takatori ceramics, are excavated here.
Since Arita-yaki potters were involved, it is said that production in the kiln was stopped after a short period of time due to the Saga Clan's measures to prevent the leakage of the advanced technology of the time.
An one of the few Confucius temples in Japan is near this Nokono-yaki kiln site.
Noko Island Museum
Address: Noko 522-2, Nishi-ku, Fukuoka City
Opening Hours: 10:00 – 17:00
Closed on : Monday to Thursday. Open on National holidays.
Admission fees (per person): Adult: JPY 400, Highschool students or younger: No charge
TEL: 092 883 2887
URL: Noko Island Museum Website
Nokonoshima Elementary and Junior High School
Nokonoshima Elementary and Junior High School is the first integrated elementary and junior high school in Fukuoka City public schools. With a small-group education that incorporates English and IT from the early grades, it is a popular school with many students from outside Nokonoshima who wish to enroll. It is an ideal school where students can enjoy school life in an outstanding natural environment with the ocean and mountains, just a short distance from the center of Fukuoka City.
In July, the junior high school holds a long distance swimming excursion. The students swim about 1.5 km from Odo, Nishi-ku, Fukuoka City, where the Odo Yacht Harbor is located on the opposite shore, to Nokonoshima Island. You are very moved by the swimers
You will be very moved when you see the goal that the students have swum to.
There are many other things to see and do on Nokonoshima Island
Except for those places that I mentioned above, there are a lot of worth to visiting historical places or sightseeing spots such as a 360-degree panorama view of Nokonoshima Observatory, Nokonoshima camping village, ancient tomb called "Sota-Kofun", the monument of well-known for a Naoki Prize winning author Kazuo Dan and the stone monument of Japanese oldest anthology poems "Manyoushu" consisted of the poems recited by the Emperors to the humble class people. Those poems were collected regardless of the social classes, we might say that this poetry anthology is unprecedent works in the world.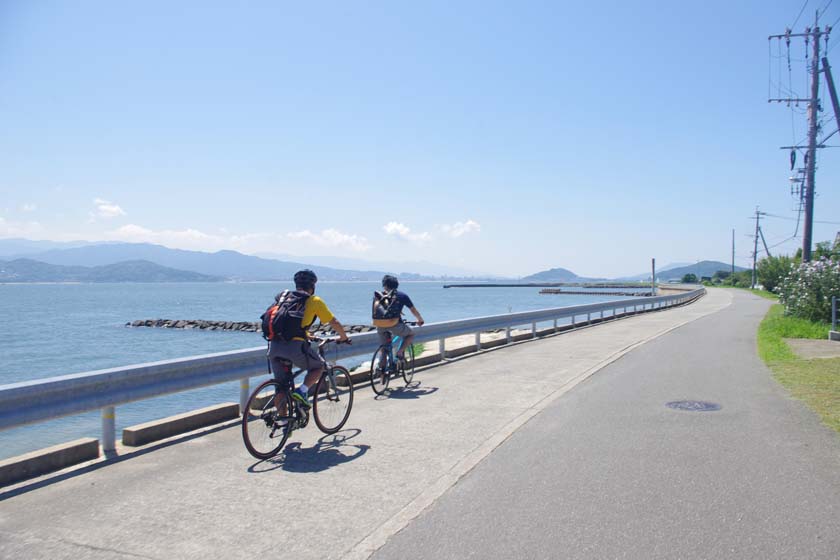 There is a beautiful beach on the south side of Nokonoshima. It is perfect for relaxing, strolling, and biking.
Further along the beach, there is memorial stone monuments to pray for the victims on the Mongolian invasion called "Moko-zuka".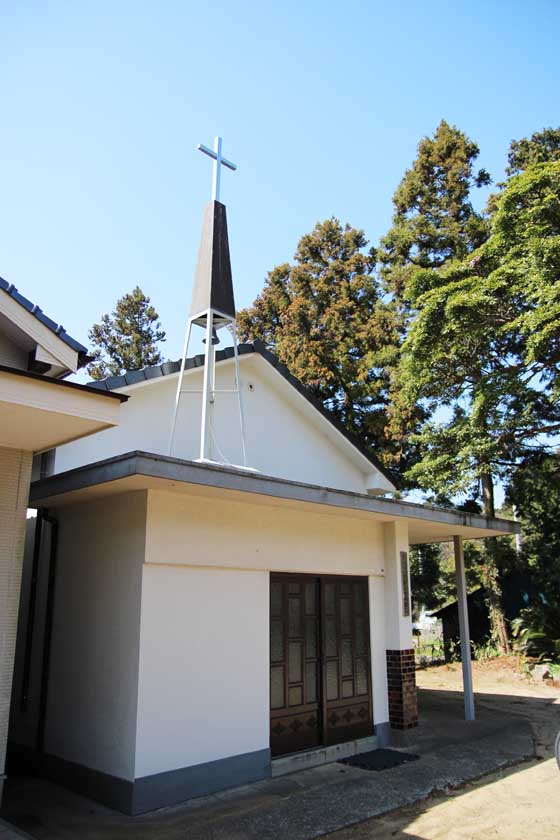 This island has a Catholic church called "Nokonoshima Catholic Church". It is said that it was built by the people who emigrated from Nagasaki at the first of Showa period, around 1930.
Enjoy a drink at "Nokoya" while waiting for the ferry on your way back from a day of fun on Nokonoshima!
After spending wonderful time on Noko Island, you will be on the way back to the city. The night view of Fukuoka City that we might see before leaving the island is so wonderful.
A cozy eating place called "Nokoya" is inside the ferry terminal. Its specialties "Nokoya curry" and "Hot summer orange drink" are so good. You can enjoy other dishes at the diner time, and they have a lot of kinds of alcohol and snacks. If you have enough time to ride on the ferry, let's have a drink!
The ferry ride on the back way to the city must be wonderful with a little tipsy feeling and good memory on this island.
Nokoya
Address: Noko 457-7, Nishi-ku, Fukuoka City (In the Nokonoshima Ferry Terminal)
Opening Hours: 11:00 – 17:00
Closed on: Irregular
URL: Nokoya facebook
The kindness of the people living on Nokonoshima is a major attraction of the island
Noko Island is blessed with flowers, fruits, historical places, nature and foods, and the kind attitudes by the people who lives on this island is also one of attractive reasons.
On the ferry or on the island, you will meet the people like as the full of energy students who belongs to the Noko elementary and junior high schools. Such friendly people on this island welcome your visit.
Access to Nokonoshima Island
Access to Meinohama Ferry Terminal
From Hakata station
It takes about 45min from "Hakata-ekimae A" bus stop in front of Hakata station to "Noko-tosenba" bus stop.
From Tenjin
It takes about 30min from "Tenjin highway bus terminal mae" bus stop to "Noko-tosenba" bus stop.
Fukuoka Municipal Ferry Service Ferry Timetable as of Aug 2023
No. From Noko / Arrive at Meinoham / From Meinohama / Arrive at Noko
1 ◎05:00 ◎05:10 ◎05:15 ◎05:25
2 06:00 06:10 06:15 06:25
3 06:30 06:40 06:45 06:55
4 07:00 07:10 07:15 07:25
5 07:30 07:40 07:45 07:55
6 08:00 08:10 08:15 08:25
7 09:00 09:10 09:15 09:25
8 10:00 10:10 10:15 10:25
9 11:00 11:10 11:15 11:25
10 12:00 12:10 12:15 12:25
11 13:00 13:10 13:15 13:25
12 14:00 14:10 14:15 14:25
13 15:00 15:10 15:15 15:25
14 16:00 16:10 16:15 16:25
15 17:00 17:10 17:15 17:25
16 17:30 17:40 17:45 17:55
17 18:00 18:10 18:15 18:25
18 18:30 18:40 18:45 18:55
19 19:30 19:40 19:45 19:55
20 20:15 20:25 20:30 20:40
21 20:45 20:55 21:00 21:10
22 21:45 21:55 22:00 22:10
23 ◎22:45 ◎22:55 ◎23:00 ◎23:10
*◎ Sunday and Holiday are out of service.
Boading fee (one way)
Adult: JPY 230
Child: JPY 120
Bicycle: JPY 120
*Adult means above a junior high school student, child means one year old or over and elementary school student. One year old or over and less than elementary school student is free per accompanying one adult.
>> See the Ferry Timetable of Fukuoka Municipal Ferry Service
Nokono-shima Bus timetable as of Aug 2023
From Nokonoshima Ferry Terminal (to Nokonoshima Island Park)
7:57
8:45
9:35
10:35
11:35
12:58
13:40
14:35
15:35
16:35
18:05*
*Operated only on Sunday and Holiday except for winter season.
From Nokonoshima Island Park (to Nokonoshima Ferry Terminal)
8:20
9:10
10:08
11:10
12:33
13:15
14:10
15:10
16:10
17:28
18:35*
*Operated only on Sunday and Holiday except for winter season.
*If the number of passengers is large, extra buses will be operated.
Bus fare (one way)
Adult: JPY 240
Child: JPY 120 (From 6 years old and over to less than 12 years old)
Less than 6 years old: free
References.
Kousaku Kubota (1991). Nokonoshima jiten. Nokonoshima Islandpark.
Yasunari Maruyama (1990). Nokohakubutsukan-dayori. Noko Museum.