Last Updated on 2021/11/03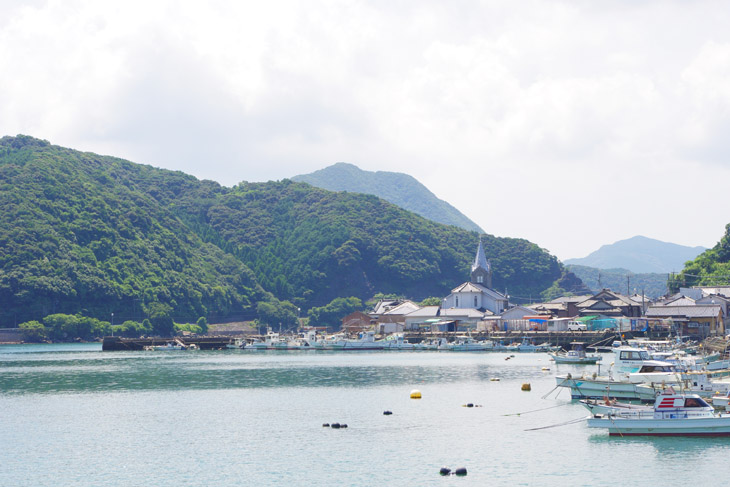 I was captured by a photo for a long time. It is Sakitsu-Cathedral in Amakusa, located in an island of the west-south of Kumamoto Pref. This cathedral is also known as Sea Cathedral, which stands quietly in the rustic sea village, which makes such beautiful scenery.
I was desperate to see this church. That's why I visited there, Amakusa. It has much to offer to tourists. It has not only a beautiful church but the dinosaur fossils, dolphin shows all year around, the fine nature of hot spring, tasty sea harvest, and so many kind people. There are not so many travelers because of accessibility issues. You can encounter original Japanese sceneries there. Amakusa will be your secret spot.
Amakusa Shiro Memorial Museum
There was the largest historical uprising called Shimabara rebellion in 1637. In Edo period of Japan, Christianity was prohibited and religious persecution of the local Catholics was increased by the Tokugawa shogunate. Furthermore the famine and the drastically raised taxes exacerbated discontent among local peasants and samurais. In the end it caused the rebellion by the local people. Shiro Amakusa was said to have lead 37 thousands rebel forces and 16 beautiful boys.
Amakusa-Gokyo
Amakusa consist of many islands and some islands are connected by bridges with each other. On the way to Amakusa from Kumamoto, when I crossed over the beautiful bridges called Amakusa-Gokyo, I felt I arrived at Amakusa at last.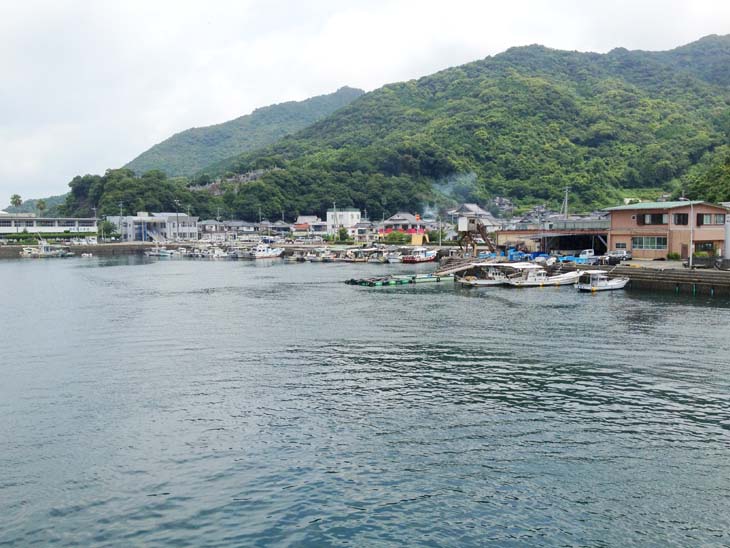 Goshoura Island Famous For Dinosaur Fossil
Goshoura Island locates on the south of Amakusa-kamishima.
The layers of the one hundred years old earth are distributed all over this island.
So many dinosaur fossils are found here. Goshoura Island is the wonderful island!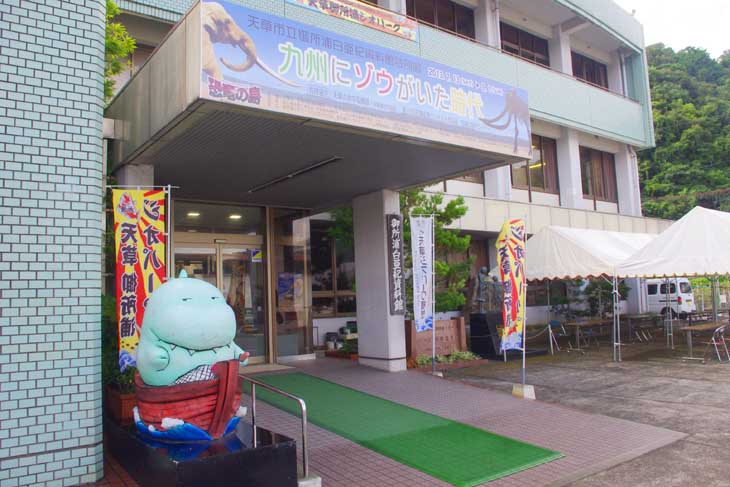 Goshoura Cretaceous Resource Center
The largest dino predator fossils are exhibited in this center. I lost track of time watching them.
You can try the hands on activity of hunting fossils at near the center.
I rent a hammer from the center and broke stones, then could find the shell fossils one after another. This hunting was so fun! Unfortunately I got the only small shells, but some people are lucky enough to get the ammonite fossil or the dens of shark.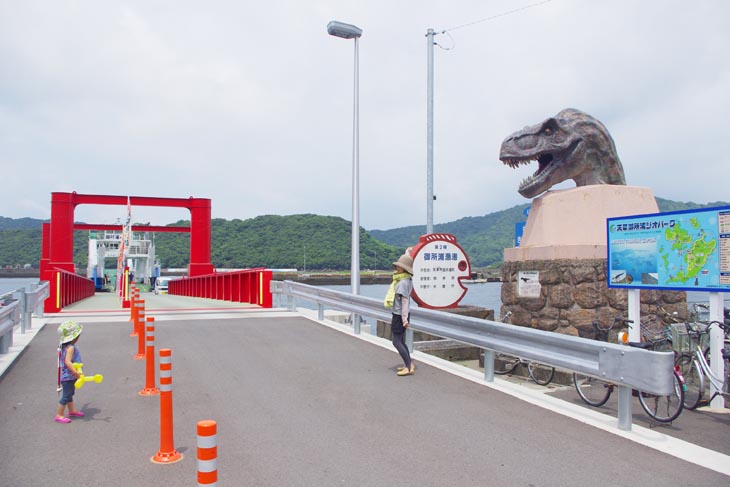 You can visit this dinosaur-island Goshourajima by the ferry from the Odo port or the Tanasoko port. The dinosaur greet warmly at the Goshoura port.
Tai-chazuke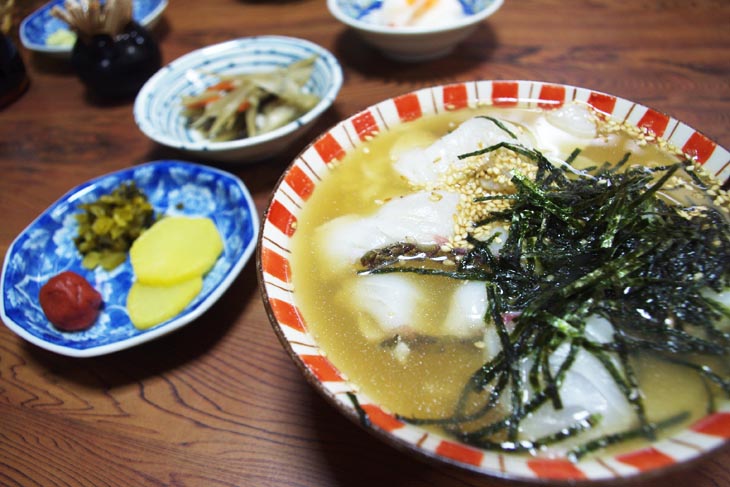 I've heard that Tai-chazuke (green tea and dashi stock poured over fresh sea bream and rice) is the local food in Goshourajima. You can try this in the popular restaurant called Shoen near the museum.
There is the rent-cycle shop in Goshoura-port. You can go around the island by bike. Just 350yen per a day, oh lucky you!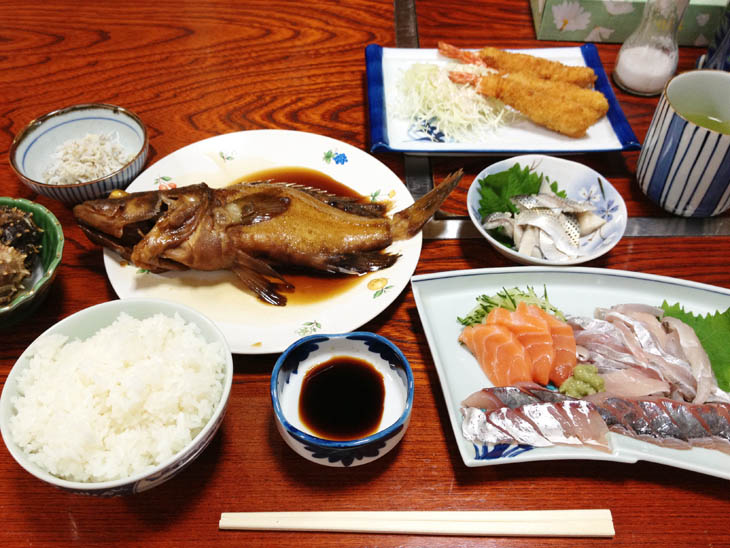 Guest House "Aoi" Near The Odo port. They offer so many kinds of fish dishes that you won't finish eating. I was full!
The Chalky Church On The Hill Top "Oe church"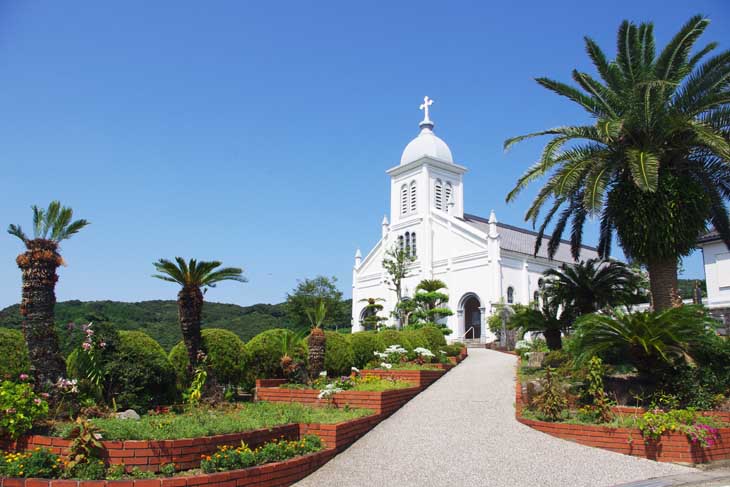 Under the anti-Christian Edicts at that time, this church was the basis for the crypto-Christians. Sakistu church was built on the coast side, but on the other hand this church was on the hill top by contrast. When I visited there, it was a hot day, so I bought a bottle of fresh juice at the shop in front of the church. It tasted really good.
The Sea Side Church "Sakitsu Church"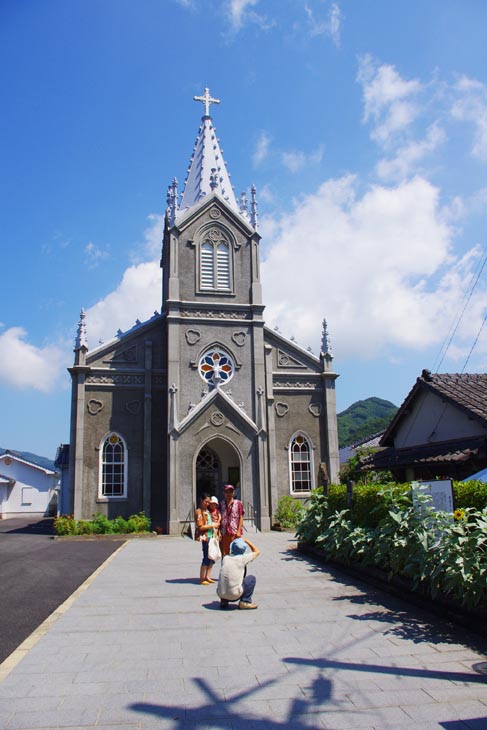 Finally I could visit Tuzaki church that I've longed for.
There is a beautiful Gothic church in the fishing village. I think you cannot find any mismatch view like this in any other place except here. The Grandmas in this town sell in the little shops around the church. They sell popular sweets called "Sugiyoukan" in this area. While eating those sweets, I enjoyed chatting with a grandma. If you should visit there, you would feel a sense of nostalgia and feel as if the time stopped. I was really glad to visit there!
Dolphin watching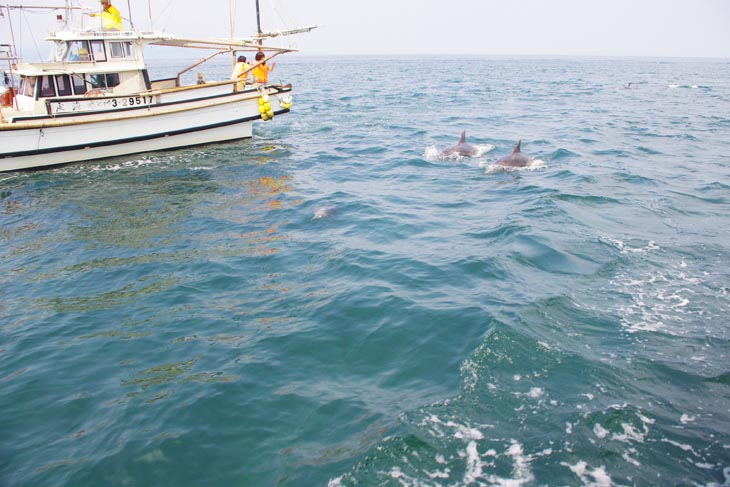 You can enjoy dolphin watching at Itsuwamachi-futae town in Amakusa city. The rate of encounter with dolphins is 99%! Whenever you go, you will meet the dolphin. When I visited here, I could see the dolphins swimming with joy. I can say it is worth visiting Amakusa only to meet the dolphins.
Shimoda hot springs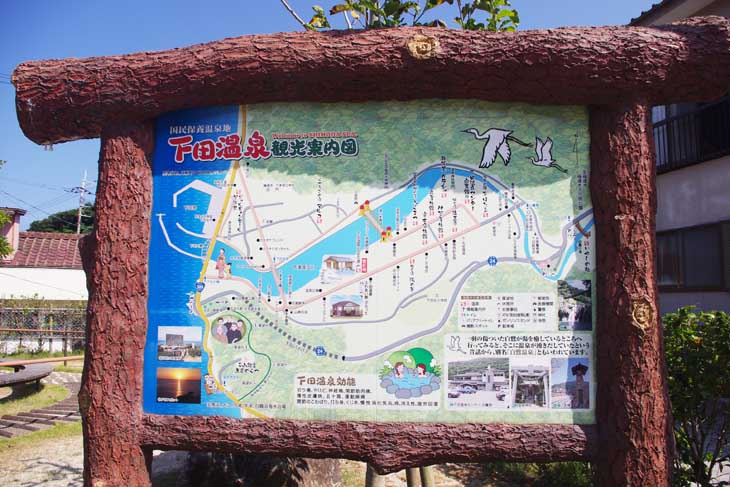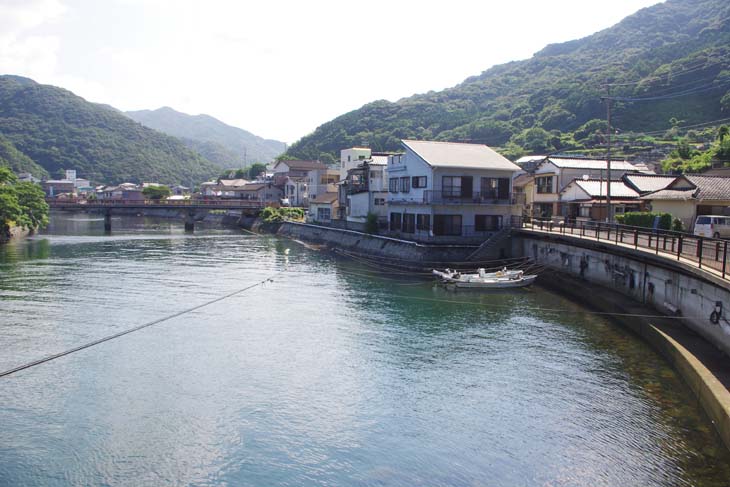 Shimoda hot springs is a small hot spring town, located in the west coast of Amakusa. The sunset view from this area is listed in the top 100 best sunsets in Japan.
One of good hotels in Shimoda hot spring is Izumiya-inn, which is also one of the long established inns. Their compassionate hospitality is nothing but wonderful. I could stay there completely relaxed.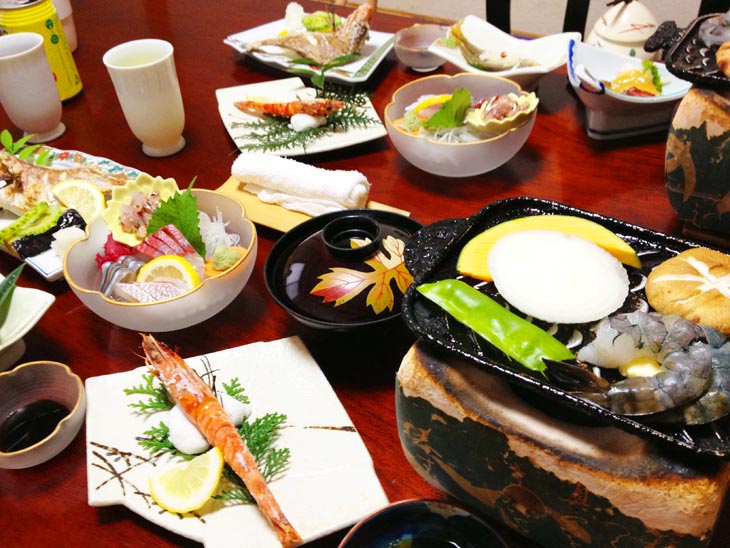 Every fish dish, for example sashimi and grilled fish, is awesome. I think the Amakusa specialty fish "Prawn" is the best. The nature of spring is very fine. I have never ever experienced this exhilarated feeling after taking in a hot spring.
Myui observatory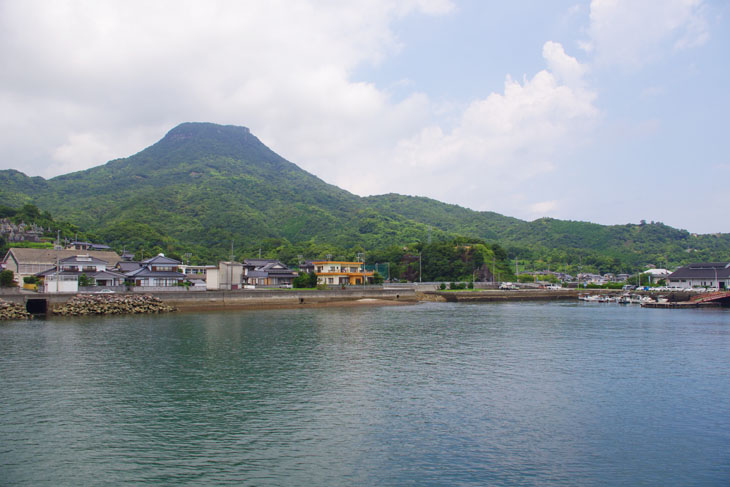 Amakusa is well known as a star watching place. Myui observatory was selected as the best place for star watching in Japan at a contest hosted by the Ministry of the Environment. I could observe planets, galaxies and clusters with the 20 inches telescope. I was really touched by the stars. This observatory is located on the top of a mountain called "Ryugadake"at 1542 ft elevation, so you will feel like you are in space. There are nice experts there to guide you through it. How come he's full of hospitality? He gave me very understandable explanation. Admission is only 200 yen.
Homemade curry restaurant "Sangosho"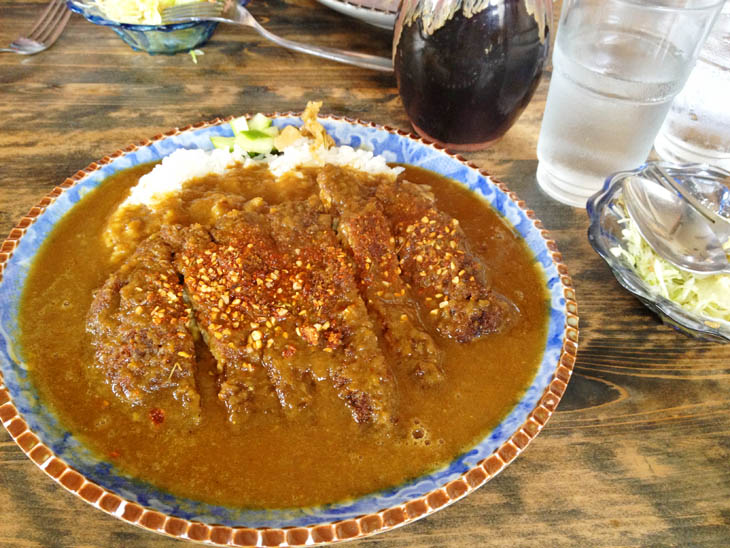 I tried the specialty dish "Super fried meat curry". The taste was addictive.
If you have any questions, please feel free to contact us by the website form.
>> General Inquiry
Please free to ask Trip insight Corp, if you want to visit Amakusa. Our staff familiar with tour of Kyushu is willing to help you to realize your memorable and wonderful tour only for you.
Custom Private Tour in Kyushu by Trip Insight Corp.
https://trip-insight.com/custom-tour/