Last Updated on 2021/11/06
The Koshiki islands are situated 30 km away to the west off the coast of Kagoshima Prefecture. The archipelago consists of three islands, Kami Koshiki (upper island), Naka Koshiki (middle island), and Shimo Koshiki (lower island).
Koshiki Bridge which the locals have long-cherished, was connected between the middle and the lower islands in August 2020. The great view of the bridge is now one of the new popular sightseeing spots on the island.
Why not time travel to see 80 million years of stratum? Access? A jet ferry taking 50 minutes or a slower ferry taking 75 minutes! We would like to recommend you taking a tour or rent a car to go sightseeing. Staying over would be relaxing, however, we can have a day trip too! Here, let us introduce some sightseeing spots.
Kami Koshiki (upper island)
Tanoshiri Lookout
A long and narrow beach called Nagameno Hama beach will be eye catching to you from this lookout. The beach, full of small round stones, dividing the East China Sea and a lagoon called Namako. The sea water flows through the beach into the lagoon at a high tide. There are two lookouts where we can enjoy this view, and Tanoshiri lookout is one of them.
Nagameno Hama Lookout
It is located on the other side from the Tanoshiri. The view of Nagameno Hama beach from this lookout shows us a different impression. This is admirable, too! Don't you think the beach looks like a dragon?
Tonboro Viewpoint
The town of Sato is situated on some ground called Tonboro. What is Tonboro? It means a sandbar made by gravel and sand which was carried in by waves, connecting two islands into one. You can see the narrowest part, 250m in width, from the viewpoint on a small hill. Just be careful though, it is a winding mountain road to get there.
Samurai Residential Street in Sato
There were once two samurai residential districts, one each respectively on the upper and the lower islands. It belonged to the Satsuma domain during the feudal era, and there were branch offices. The stone walls are impressive and were made using local round stones. People are still living there.
Koshiki Daimyojin Shrine
This shrine is at the foot of a bridge between the upper and the middle islands. There is no hall, and a large rock is worshipped as the god. You can park your car before crossing the bridge to take a walk to a small space for taking pictures.
Naka Koshiki (middle island)
Kinokuchi Lookout
It is at the mountain on the middle island with a parking lot, and is 230m high, you can see the Koshiki Bridge and the lower island together from here. Pay careful attention in getting there via a twisty mountain road.
Shimo Koshiki (lower island)
Torinosu Lookout
This is a must visit place upon arrival to the lower island! The spectacular view of the Koshiki bridge is waiting for you. What a stunning vista! A lighthouse standing there was built for guiding ships. A native lily called Kanoko will be blooming beautifully from July to August, giving a pleasant and sweet scent.
Yohagi Maruyama Park
This is another must visit spot followed by Torinosu lookout! You will be overwhelmed by its dynamic view of a precipitous cliff. It is about 200 high, but the great cliff looks much higher than it really is. What's more, some shell fossils have been discovered here which were more than 80 million years old!
Zebi Kannon Three Storied Falls
These are beautiful falls which have the comforting sound of water and are silky looking on the rock skin. The three storied falls are 55m high at their zenith, and this picture is the lowest tier. There is a small Kannon Buddha hall nearby and the water is believed to have therapeutic power like medicine by the locals.
Samurai Residential Street in Teuchi
It is located in the south of the lower island called Teuchi. There are no samurai residences today and only the stone wall remains there. Why don't you take a stroll down the street in a peaceful state of mind?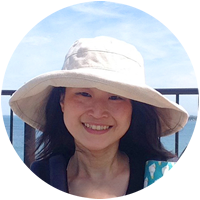 Kaori Ashida
Licensed National Guide, Certified General Travel Services Manager, 1st Grade Instructor of Inbound Tourism. 17 years of experience in the tourism industry, including working as a tour guide in Australia and Canada for Japanese tourists. I love traveling, eating, and taking beautiful pictures!
Are you a travel lover? Do you want to try a new experience? If yes, check out my articles for your traveling tips. Other than being a professional and friendly guide, I share travel information about Japan as a freelance writer.
Note:
The accuracy of information is not guaranteed. Please contact the relevant agencies about the latest information. Unauthorized copying and replication of the contents of this site, text and images are strictly prohibited. All Rights Reserved.
If you have any questions, please feel free to contact us by the website form.
>> General Inquiry