Last Updated on 2021/11/06
What springs to mind when you hear 'Nagasaki'? Well, it might be the atomic bomb, but Nagasaki has many aspects to its rich history and culture. Its unique and distinctive atmosphere is different from other cities in Japan. Here, we would like to introduce various ways to enjoy Nagasaki.
The Peace Park Area
Peace Park, Hypocenter Park, and the Nagasaki Atomic Bomb Museum are absolutely recommended when visiting Nagasaki. Why don't you take a stroll while praying for peace?
At 11:02 a.m. on August 9, 1945, the atomic bomb was dropped over the city, exploded about 500m above the ground. Peace Park was created to represent the wish for world peace, and that this tragic war and wars of this kind will never be repeated. There are paper crane towers, the Bell of Nagasaki, monuments donated from all over the world, and the Fountain of Peace at Peace Park.
A five-minute walk takes you to the Hypocenter. The black granite tower, known as the hypocenter, stores the victim's names. The wall of the destroyed Uragami Cathedral has been relocated next to the tower. The bombed ground speaks to the fear of the atomic bomb.
A few-minutes-walk leads to the Atomic Bomb Museum. You can see life before and after the atomic bombs displayed here. What should we learn from Nagasaki? Shall we contemplate the enduring importance of world peace?
Oura Church
This church is a national treasure, and the oldest church in Japan, constructed in 1865. Christianity was banned for 250 years and Japanese Christians were severely persecuted during that time.
Japan opened some ports, including Nagasaki, and thereafter, Oura Church was constructed for foreigners living in Nagasaki. One month after its completion, a miraculous drama occurred. 'Hidden Christians' from Uragami district who kept believing in God secretly appeared there. They continued to pass on their faith from generation to generation amid the persecution. Why not visit this church to learn about the fateful history of Japan's hidden Christians?
*Note: It is a sacred place. Please remember your good manners when you visit.
Glaver Garden
Nagasaki became an international port soon after Japan opened its borders to the world. Minami Yamate was a district allowing foreigners to dwell there, and Glover's House and Oura Church were built. T.B. Glover, a Scottish merchant, brought the movement of the industrial revolution to Japan. Glover's original house and some relocated western houses are displayed in the garden.
It is situated on the mountain slope, giving a splendid view of the port, and visitors can enjoy seasonal flowers throughout the year.

*Note: The Glover House is under repair until March, 2021.
Chinatown
There are three China Towns, Yokohama, Kobe and Nagasaki in Japan, and Nagasaki's is the oldest. The city is decorated with colorful lanterns during the Lantern Festival in winter. China Town is the main venue of the festival.
Dejima
Dejima was an artificially made island, established in 1636. Dejima was the only window for trade with Holland, incorporating western culture for about 218 years. Its surrounding area was reclaimed and Dejima vanished in the city right after Japan's isolation policy ended. The reconstructed buildings are used as a museum now.
Megane Bridge
Megane bridge, or "eyeglasses bridge", is one of the popular sightseeing spots, built in 1634. It is the oldest arched stone bridge in Japan. The bridge was made by a Chinese monk from Kofukuji temple near here. The current bridge was reconstructed in 1982 due to a flood.
The Observation Point on Mt. Inasa
Mt. Inasa is a great spot for enjoying a panoramic view of the city and bay. The beautiful blue sea and the city are harmonized in the daytime, while the sunset and dazzling night view are incredibly stunning. There is a restaurant at the observation point so that visitors can view the breathtaking scenery as well as eat and drink. There are three ways to go up to the observation point on Mt. Inasa, by ropeway, slopecar or car.
Twenty-Six Martyrs Museum
This museum is located on the hill called Nishinozaka, where six foreign missionaries and twenty Japanese Christians were martyred in 1597.
Francis Xavier arrived Kagoshima in 1549, and many Japanese people, mainly in western Japan, including Nagasaki, got baptized, but Christianity was banned thereafter. They were prosecuted and punished, and the ban was finally lifted about 250 years after that. Christianity had a large impact on Japan's history. The historical documents are exhibited at the museum. It is heartbreaking to learn about the history of 'Hidden Christians'. Why not learn more details by visiting the museum?
Gunkanjima Island
Gunkanjima, meaning 'Battleship Island',which is known as a coal mining island, supported Japan's modernization. The population was nearly 5,200 at its peak, when it was urbanized and filled with apartments, schools, hospitals, amusement facilities and a theater until the coal mining industry was closed in 1974. It has the worst density in the world at that time. However, the energy source shifted from coal to fuel with time, making people leave there, so that it has become a desert island.
The buildings are deteriorating day by day. If you close your eyes, you might hear something of the busy old days. Landing is permitted as of 2009, but not at a high wave. It will be prohibited to land someday, as the buildings are collapsing. How about visiting Gunkanjima before it is restricted?
Five cruise companies operate a tour to the island. It takes roughly three hours in total to get there, so give yourself plenty of time!
Cuisine
Delicious food is waiting for you! Champon noodles, Sara-Udon crispy noodles, Castilla Sponge Cake, a popular dish called 'Turkish Rice', fresh seafood and more! How about a handy 'Kakuni Manju', pork steamed bun, while walking? 'Yosso', a longstanding restaurant, provides us with traditional dishes like 'Chawanmushi and Mushi Sushi'. Visit Nagasaki with an empty stomach!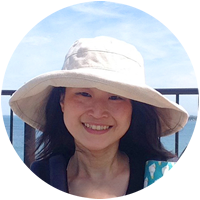 Kaori Ashida
Licensed National Guide, Certified General Travel Services Manager, 1st Grade Instructor of Inbound Tourism. 17 years of experience in the tourism industry, including working as a tour guide in Australia and Canada for Japanese tourists. I love traveling, eating, and taking beautiful pictures!
Are you a travel lover? Do you want to try a new experience? If yes, check out my articles for your traveling tips. Other than being a professional and friendly guide, I share travel information about Japan as a freelance writer.
Note:
The accuracy of information is not guaranteed. Please contact the relevant agencies about the latest information. Unauthorized copying and replication of the contents of this site, text and images are strictly prohibited. All Rights Reserved.
If you have any questions, please feel free to contact us by the website form.
>> General Inquiry