Last Updated on 2021/06/18
I visited Tomonoura and Sensuijima Island with my friends in 2012. One of my friends has a special psychic ability, and she suggested us to go there. It was four of us, all women. Sensuijima is located in the "Setonaikai National park".
Nostalgic townscape in Tomonoura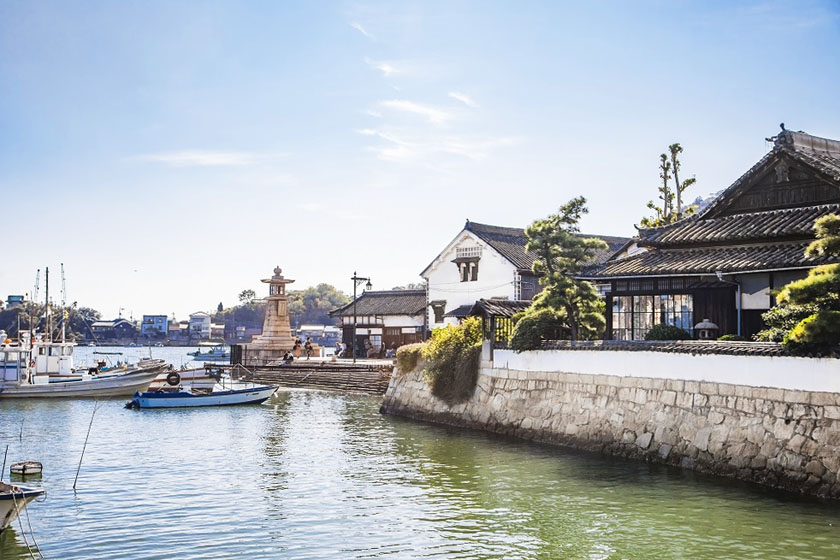 We reached Tomonoura before 3:00pm. Tomonoura is a good place for sightseeing. You can go around it in about 2 hours. Although Tomonoura is a small port town, there are a lot of historical buildings. Jyoyato was built in 1859, and it was used as a lighthouse for fishermen in a past. It became a symbol of Tomonoura. There are also other good places such as Fukuzenji temple and Ioji temple etc. From the higher parts of Tomonoura, you can enjoy the beautiful scenery, resembling a painting. From here you can go to Sensuijima Island by ferry. It takes only 5 minutes.
My life started changing?
We stayed in the inn called "Kokokara" meaning "From here". The pamphlet of this inn says "From here, your life will change." At that time I had no desire to change my life. I was already happy and I was satisfied with my job as a Japanese language teacher. Though, thinking of it now, my life started changing from that moment.
Our room in this inn was very simple. There were neither a TV set nor any decorations. There were so many books in the lounge of this inn, most of the books were about life. This inn is a bit different from others. When we arrived, we were welcomed by the word "okaerinasai" usually used when we come back home. And when we were leaving, the inn's stuff saw us off with the word "itterasshai" while striking flint. This is an old Japanese expression used when we are leaving home for a long trip.
Before the dinner we took a bath. We wore the clothes for the bath. There were many unique bathes. At first, we entered the big bath tub called "Tainaiburo". We were floating in the warm water like fetuses. It was comfortable. Next we took a steamed herbs bath and so on. We were told that the final bath was a largest outdoor bath in the world. We followed the arrows. We went to the sandy beach. To our surprise our last bath was the Seto inland Sea. We thought it would be too cold to enter the sea in November. Contrary to our worry, we were comfortable in the sea. I felt I became a part of Mother Nature. It was a very strange feeling.
After the bath, we ate a lot of delicious dishes made with fresh local ingredients. After dinner we had fun watching an old style Japanese dance accompanied by Japanese drum. I felt I entered the memory of my ancestors. I had a lot of mysterious experiences in this island.
Power spot in Sensuijima
Next morning, we went for a walk around the inn. We wanted to see "Gosikiiwa" It means Five -colored rocks. They were very rare- we can see them only here in Japan. I had a miracle experience there. When I stood on a rock in a small hole, my body started spinning very slowly. I was very surprised. My psychic friend sad to me, "This place is good and has a strong magnetic field." I had no idea about it, but I thought this place was a power spot.
Changing for the better "From here"
I will talk about my story "From here". I met a man who came from the Netherlands to the inn. He said he had a problem, he wanted to take a bath, but he didn't know how to do it in that place. I was not good at English in those days. But, he could understand my explanation in poor English. He thanked me. At this time I became determined to learn English.
The pamphlet says "You will be shown the purpose of your life here." I had no idea then. I love to travel, I am interested in foreign countries. As a Japanese language teacher I had many students from many countries. But I had no need to use English in my daily life. Anyways, I started to learn English after that trip, and it was interesting for me to communicate with foreigners in English. After 4 years I got a license to guide foreigners in English. I felt it's the magic of Sensuijima Island.
The purpose of the trip depends on each person, I think. Sightseeing, study tour, visiting historic sites, or healing journey. Whichever kind it is, you can get inspired by meeting new people, attending special events and enjoying beautiful scenery in this island. Please add this island to your travel plan.