Last Updated on 2021/11/04
Known for the beautiful sea and high grade Karatsu ceramic ware
A one hour and half trip by bus or train from Fukuoka will take you to Karatsu. Karatsu is surrounded by beautiful coasts and mountains. I would like to insist that anyone visit this city, because Karatsu ceramic ware that leads the Japanese ceramic art is really outstanding. There are 70 workshops in this city. I will bet will be impressed by some of the best quality ceramic works. Karatsu will not only entertain your eyes but also provides excellent sea foods. Karatsu is blessed with an abundance of sea foods.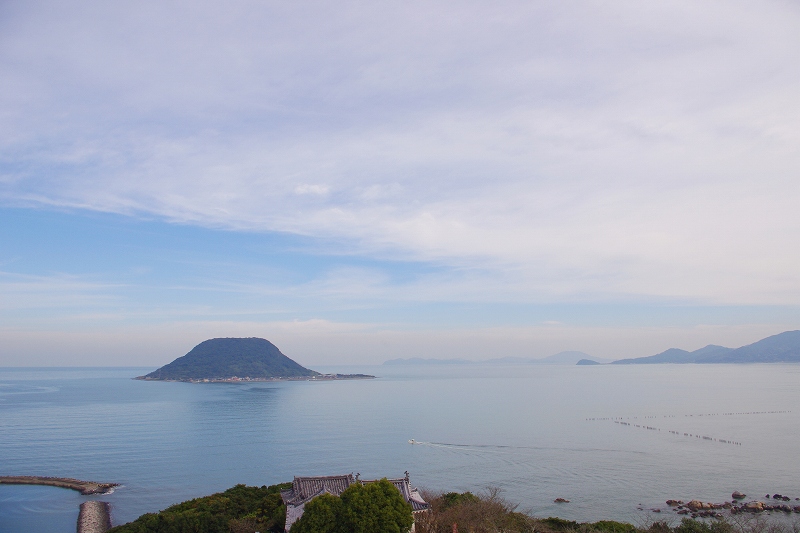 View of Karatsu Bay and Takashima Island from the tower of Karatsu Castle.
Karatsu yacht harbor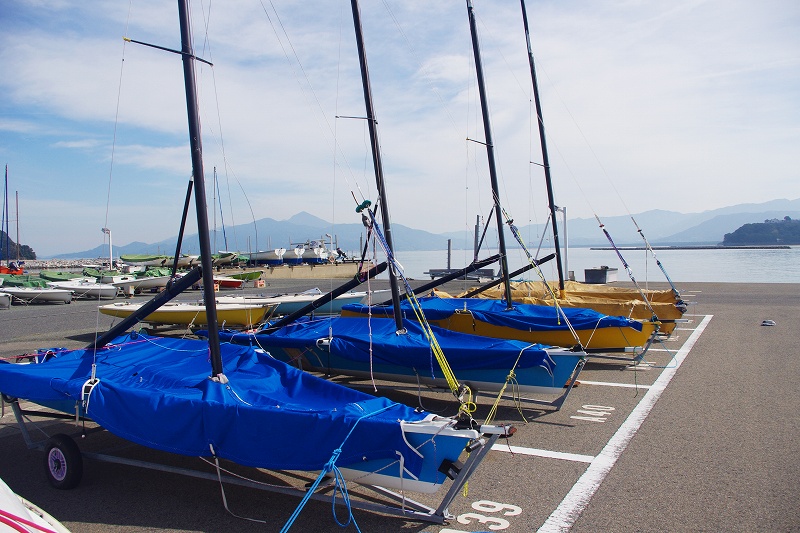 World-class yacht races have been held on many occasions in Karatsu. This yacht harbor has produced a lot of athletes, including Olympic players. Yes, Karatsu is famous around the world as one of the best yacht harbors. Staff members working this harbor said, "Karatu is best for optimal winds and excellent marine conditions for yacht." Visiting this harbor made me feel local people's passion for yacht.
The Saga Prefecture Yacht Harbor is located in Karatsu City. In the boat park, there are several dinghies covered with blue covers.
Jacques Mayol in Karatsu
Have you ever seen the movie "Le Grand Blue"? This film is based on real person Jacques Mayol famous as a freelance diver. He often visited Karatsu in summer in his childhood. He encountered dolphins in this sea,learned skin diving, and was fascinated by diving. He spent part of the twilight years in this city. What did he think when he looked at this sea?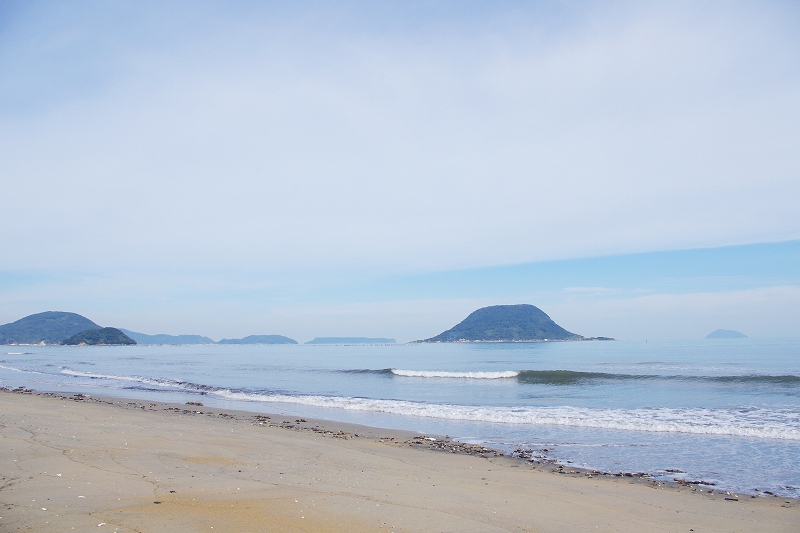 The beach faces Karatsu Bay. There is Takashima Island off the coast.
Ryuta-kiln
Potters' works made in this kiln follow the tradition of the Nakazatos family, one of the most famous Karatsu-yaki pottery families and present a unique view, a combination of simplicity and beauty. It is said that the their works are recognized of functional usability and durability by a renowned chef in Japan. You can observe how they create new works in their workshop. If you love their works in their gallery located in the famous inn called "Youyoukaku".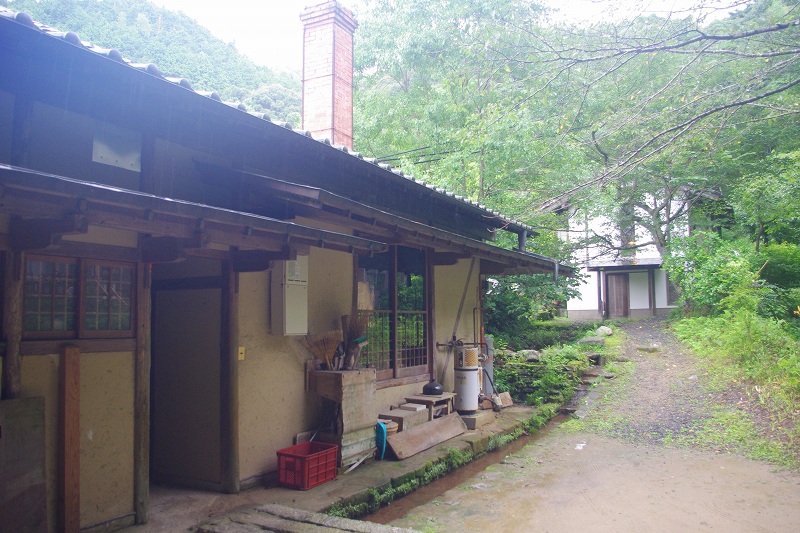 The workshop of Ryuta-kiln.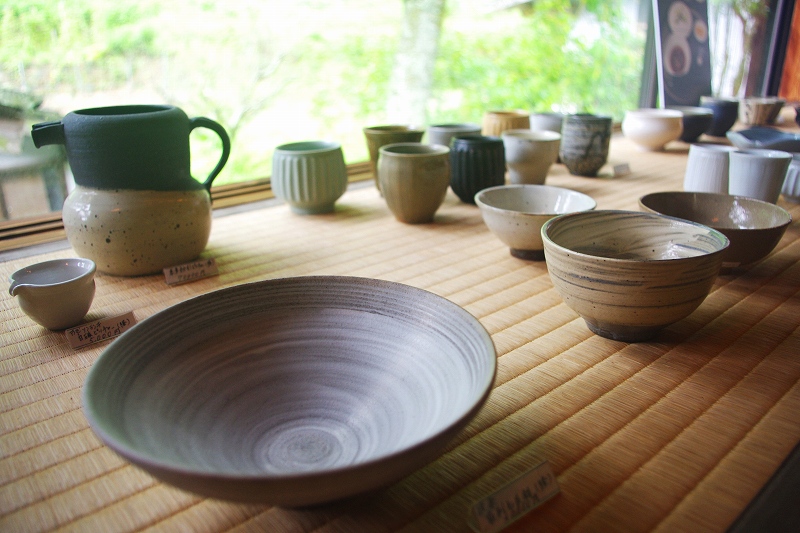 Several types of Karatsu ware by Ryuta-gama (Ryuta-kiln) are on display.
Tarouemon Nakazato's workshops
Tarouemon Nakazato (1895-1985), the 12th master of Karastu-yaki pottery was a human national treasure. Karastu has the ability to produce great figures. You can enjoy watching his and his family's masterpieces in this gallery.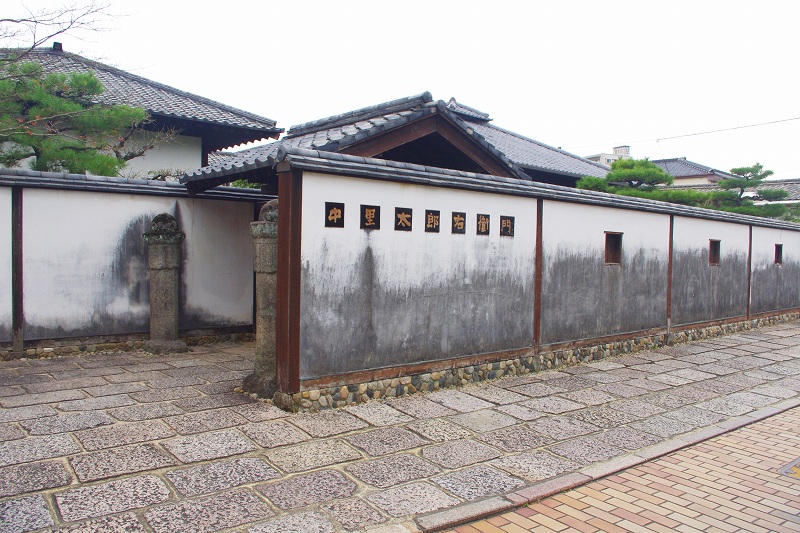 This is the exterior of Nakazato Taroemon Pottery of Karatsu ware.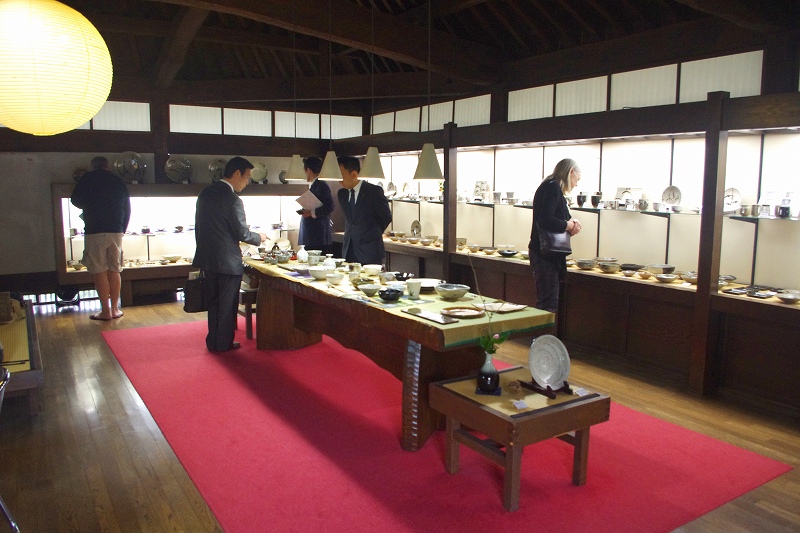 This is the showroom of Nakazato Taroemon of Karatsu ware. Teacups, bowls, and other Karatsu ware ceramics are on display and for sale.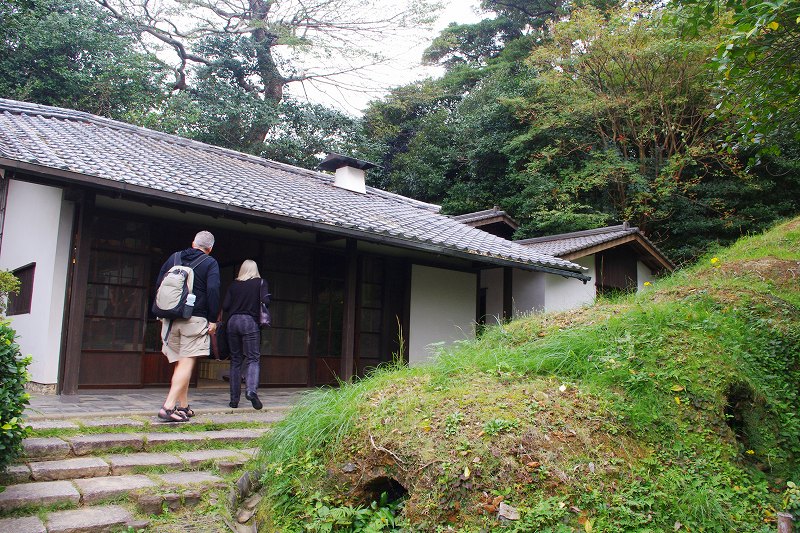 This is the exterior of the workshop of Nakazato Taroemon of Karatsu ware. There is once Noborigama (an ascending kiln) in front of the building.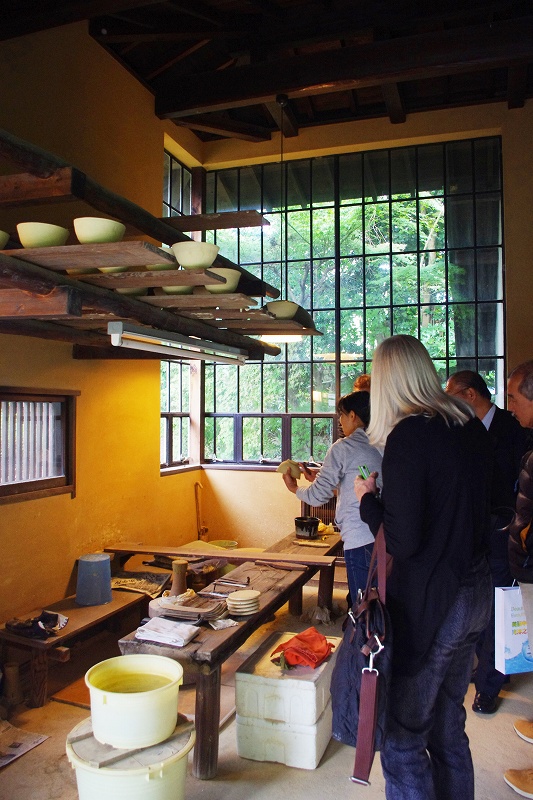 This is the inside of the workshop of Nakazato Taroemon of Karatsu ware.
Former Takatori House
Koreyoshi Takatori who made a fortune in the coal industry lived in this house. The house was designated as a nationally important cultural property. Just once, I'd like to live in a mansion like this in my life.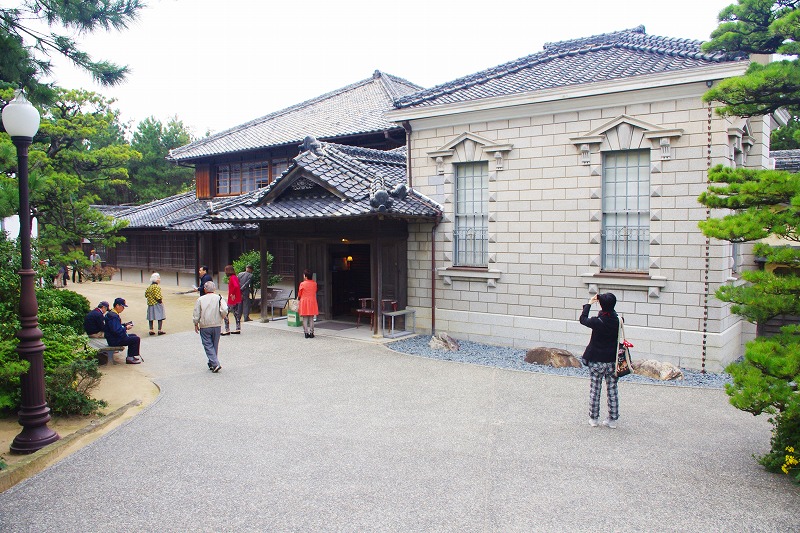 The former Takatori Residence in Karatsu.
Karatsu Kunchi Festival
The Karatsu Kunchi Festival is held every year from 2-4 November, and is the largest festival in Karatsu City. The highlight of the festival is the parade of 14 floats.Each float is decorated with a model of a lucky charm, a sea bream, a Japanese samurai helmet, and a lion.Each of the floats is decorated with models of lucky charms, sea breams, helmets, lions, etc.
The photo shows the floats used in the Karatsu Kunchi Festival, which are stored in the Hikiyama Exhibition Hall on days other than the festival. The Hikiyama exhibition hall is under reconstruction until 2025. In the meantime, the floats are stored and displayed at the Furusato Kaikan Alpino.
As for the article on Karatsu Kunchi Festival, please see also the page on "Karatsu Kunchi Festival – One of the must-see festivals in Karatsu, Saga, Kyushu".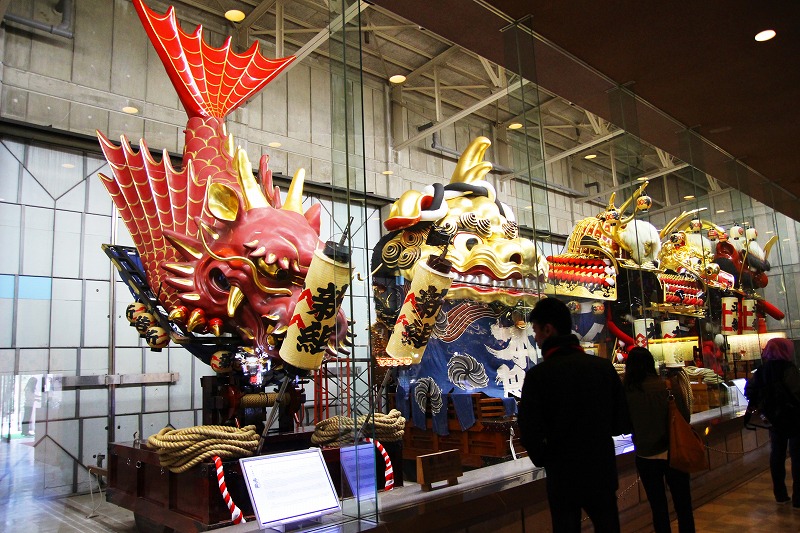 The floats used in the Karatsu Kunchi Festival are stored at the Hikiyama Exhibition Hall.
Niji no Mastubara (pine forest along the Karastu Bay)
One million pine trees occupy an area, 5 km long and 1 km wide. This is one of the three biggest pine forests in Japan. If you walk in this forest, you will feel just like you are walking under a pine tree tunnel.
If you feel hungry, you can get famous burgers from a burger truck in the forest. Let's bite one while walking through this tunnel. The sauce is awesome!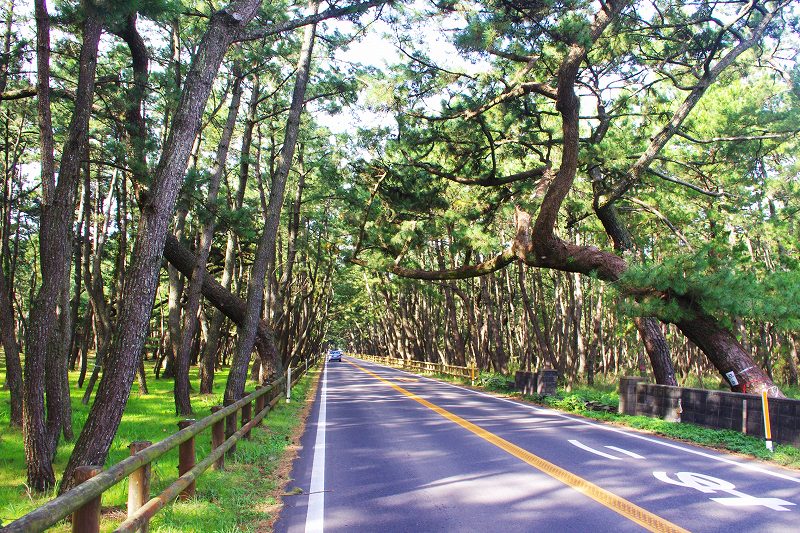 This is Niji-no-Matsubara, a famous pine forest in Karatsu.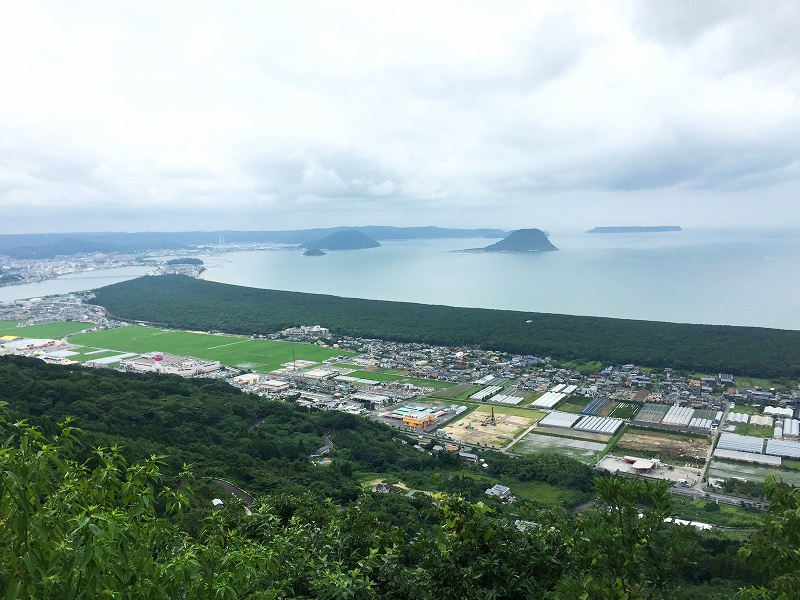 View of Karatsu Bay and Nijinomatsubara (pine forest along the Karastu Bay) from Kagamiyama Observatory.
Ikinari-dango(dumpling)-Japanese local traditional sweets
The rice dumpling made with local sweet potatoes and bean jam is popular among women.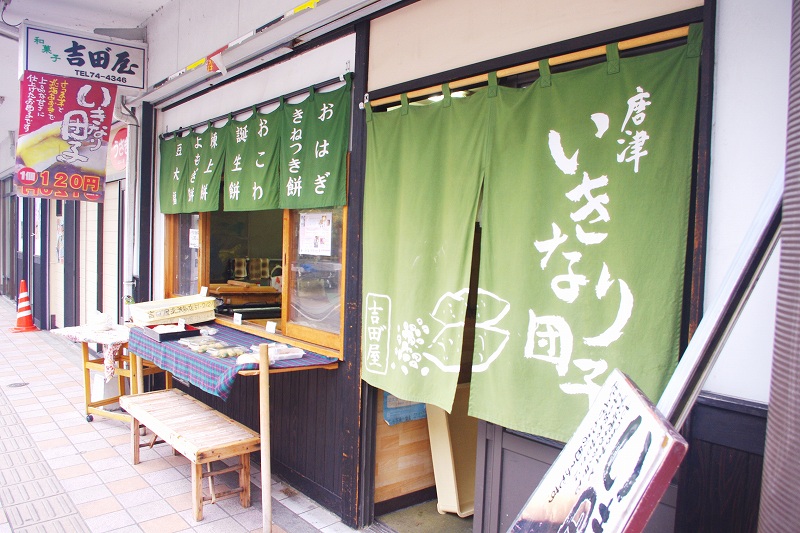 This is the exterior of a Japanese sweets shop in Karatsu called Yoshida-ya, famous for its Ikinari-dango.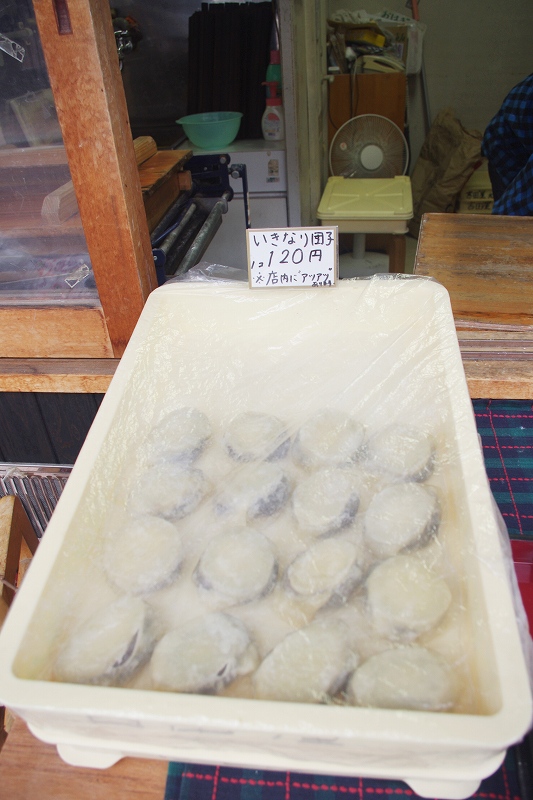 It is Ikinari-dango(dumpling)-Karatsu's local traditional sweets.
Gyorokke fried fish cake
This is famous as a specialty in Karatsu, Fujikawa-kamaboko. Fujikawa fish cake shops produce popular Gyorokke flavored with curry or salt.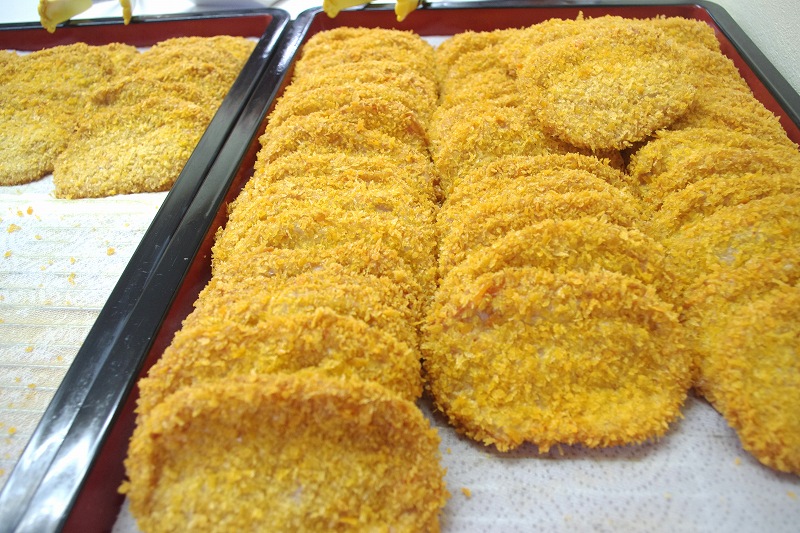 This is Gyorokke fried fish cake, famous as a specialty in Karatsu, Fujikawa-kamaboko.
Squids in Yobuko
In Fishermen's town Yobuko, you can enjoy Yobuko specialty ika-no-ikizukuri, a sliced row squid presented in its original shape. The fresh row squid tastes very good. In this town you can stop by at the market from 7:30 am to around noon and get local fish and vegetable.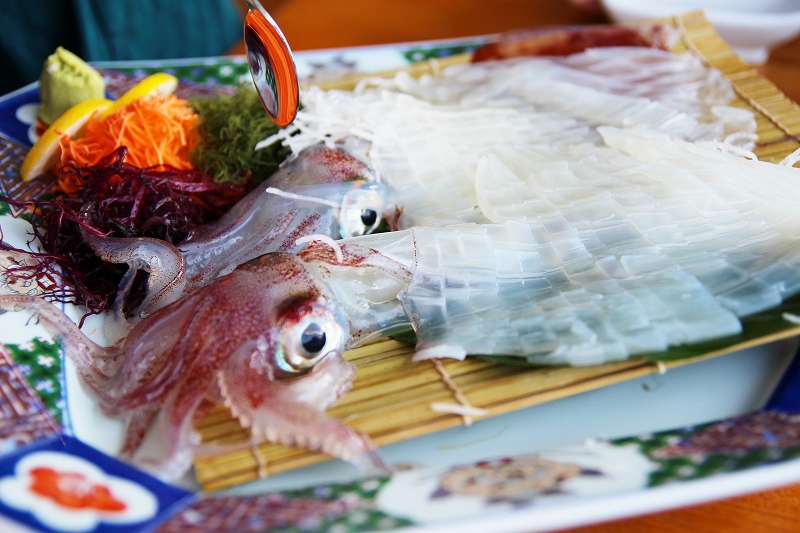 Live squid is transparent.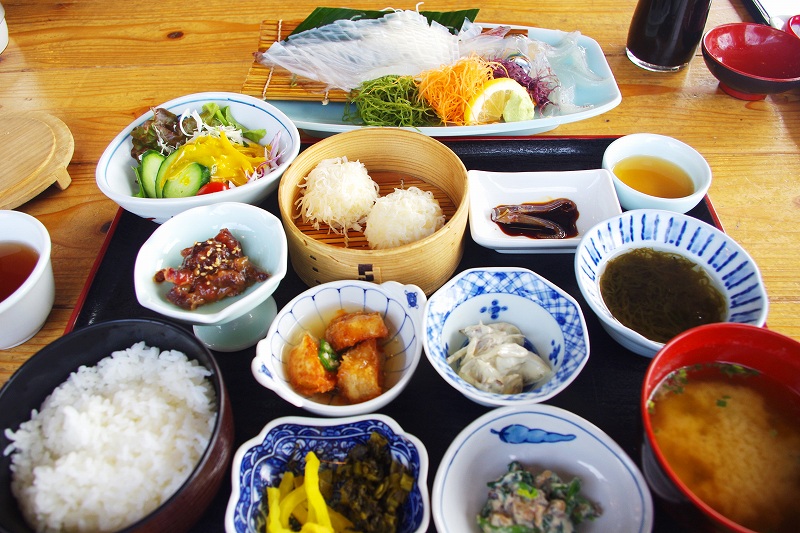 This is the Live Squid Set Meal at Ika Honke Honten, a recommended squid restaurant in Yobuko, Karatsu. The dish includes live squid sashimi, squid siumai, mozuku seaweed, simmered vegetables, raw vegetables, rice, and miso soup.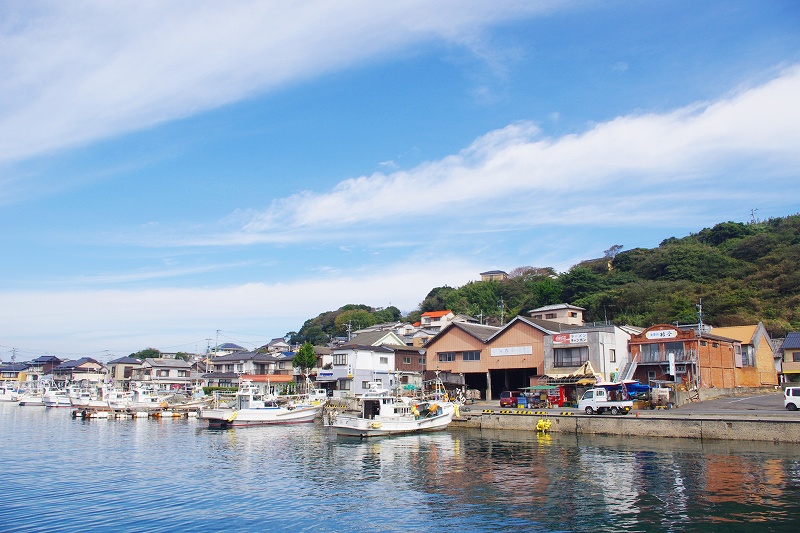 Yobuko fishing port.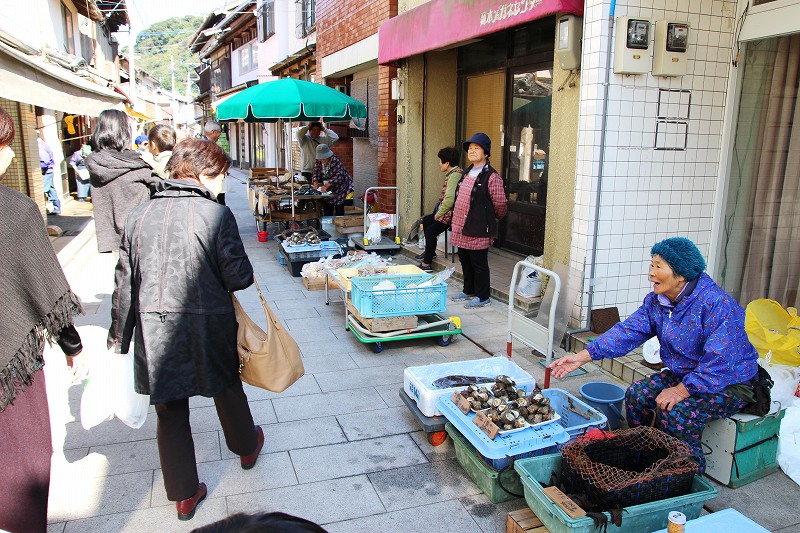 At the morning market in Yobuko, local fishermen and farmers sell fresh seafood and vegetables on the street.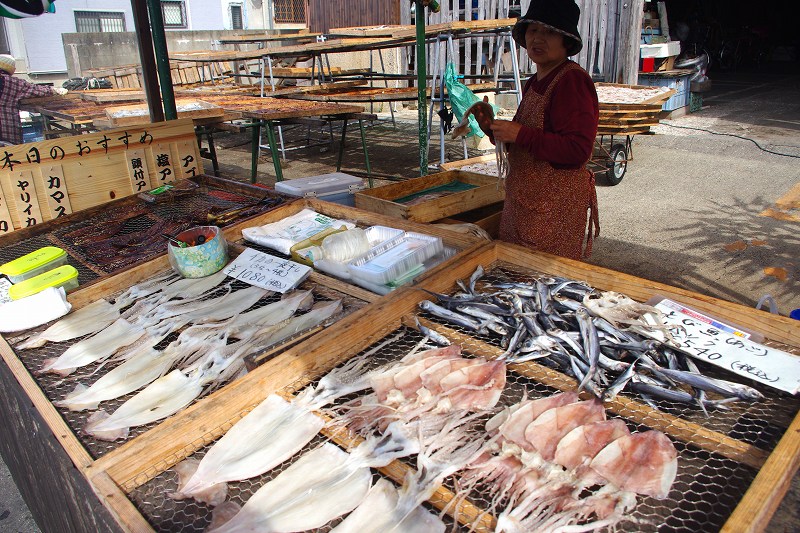 At the Yobuko fishing port, there are many places selling dried squid and flying fish that are dried on the spot.
Tategami, the best surf point in Kyushu
The well-known surf point called Tategami is full of surfers waiting for big waves on great surfing days. The Tategami Surf Point is one of the best surfing spots in Kyushu, Japan with a long history and good waves. The Yategami-iwa (stone) along the coast is known as a gigantic stone with unique shape.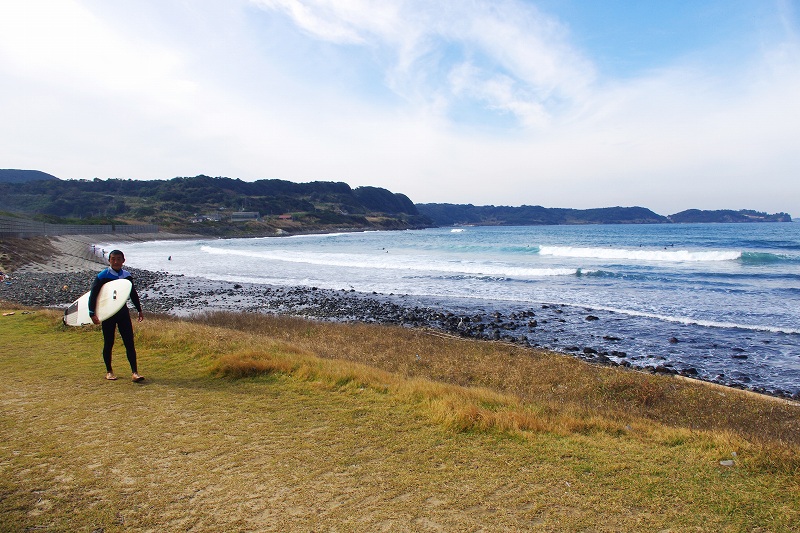 This is the Tategami Surf Point near Tategami Rock. It is one of the most famous surfing spots in Kyushu, Japan with a long history and great waves.
Houtou Shrine is visited by people who hope to win the lottery
Houtou literary means "win a lottery". The name of the shrine is attracting people who are going to win the lotto and want to get successful and so on. There are so many people come to prey from all over Japan. Come and prey, get a good fortune and an economic fortune!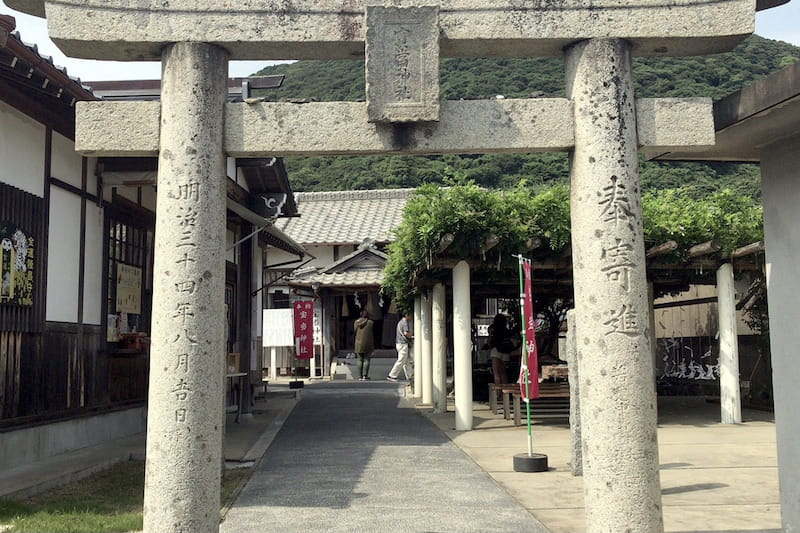 The approach to the shrine stretches from the torii gate.
Karatsu Castle
The Karatsu Castle was built in 1608. You can enjoy panoramic views of the beautiful pine forest along the Karatsu Bay called Niji no Mastubara and Karatsu town from the top of the Karatsu Castle.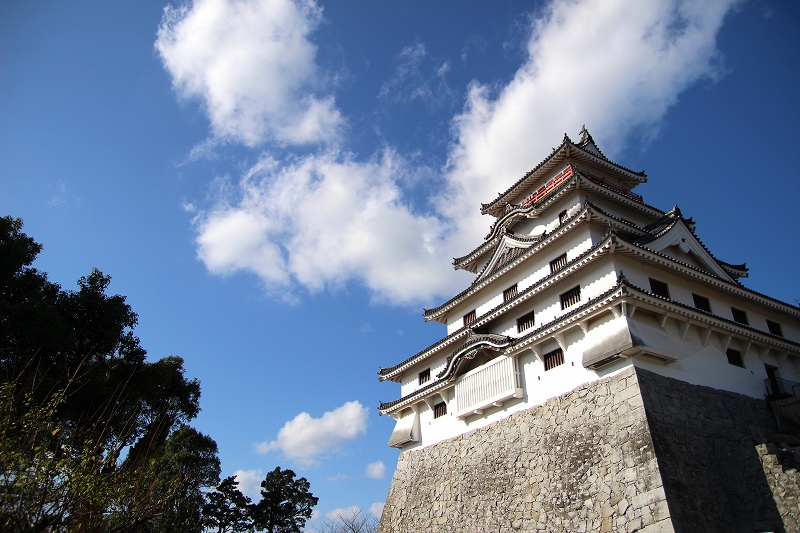 Karatsu Castle.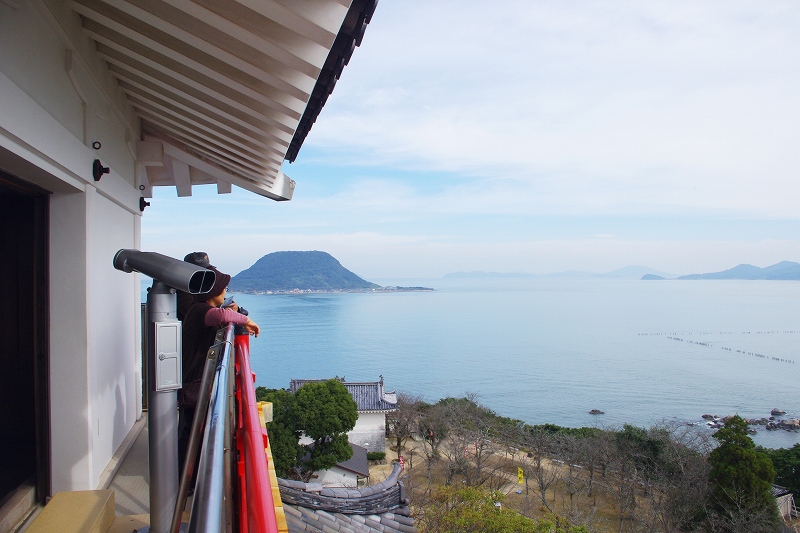 View of Karatsu Bay and Takashima Island from the tower of Karatsu Castle.
Former Karatsu Bank head office
This building was designed by Kingo Tatsuno who is famous architecture in the 19 centuries (Meiji period). His famous representative structures are Tokyo station, the central branch of the Bank of Japan, etc.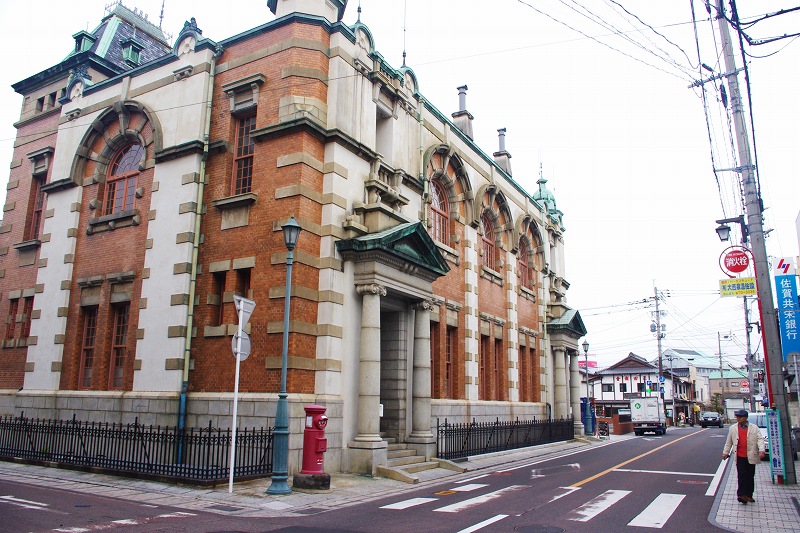 The exterior of the former Karatsu Bank Head Office.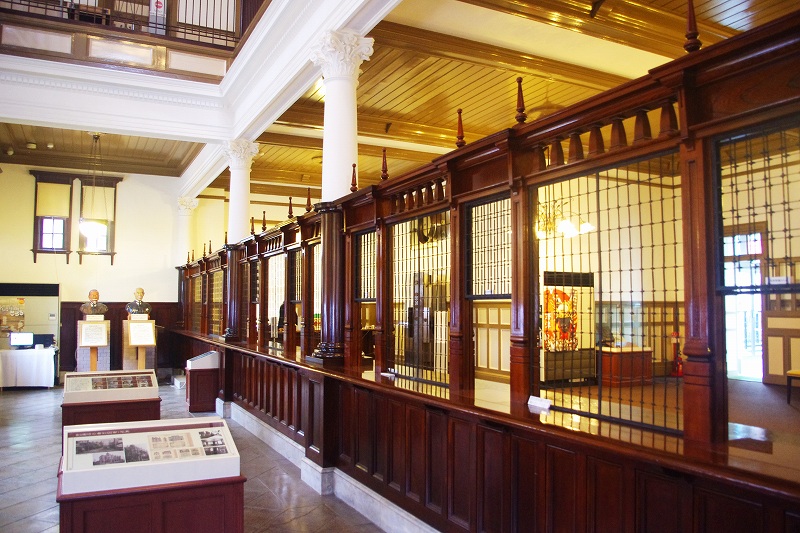 The interior of the former Karatsu Bank Head Office.
If you have any questions, please feel free to contact us by the website form.
>> General Inquiry