Last Updated on 2021/11/06
Take in superb views from Yamaguchi Prefecture!
Yamaguchi has a rich history and blessed nature, so a drive on the Sea of Japan coast is greatly recommended to you all! A 90-minute drive takes you to Tsunoshima island from the city of Shimonoseki. The 1,780m bridge, crossing over the cobalt blue sea, opened in 2000.
One of photo spots is 'Amagase Park' on the mainland side, however, a secret photo spot is a small hill where you can overlook both the bridge and the island. You can walk there from Amagase park! Another observation point is located after crossing the bridge on the island side.
One of the 16 lighthouse visitors can go up to the top "Tsunoshima Lighthouse"
Tsunoshima lighthouse is one of the highlights! The lighthouse, at 29.6m in height, is a western style building designed by a British civil engineer, R. H. Brunton in 1876. It still plays a role since then.
Among lighthouses throughout Japan, only 16 of them including Tsunoshima lighthouse allow visitors to go up to the top. So, why not enter the inside to enjoy a stunning view from the top? After paying an entrance fee of 300 yen and climbing a spiral staircase with 105 steps, splendid scenery, harmonized between a park on the foot of the lighthouse and the blue sea, is waiting for you!
Long tunnel of red trii gates "Motonosumi Shrine"
The picturesque view of red torii gates leading to the sea and the deep blue of the Sea of Japan is at the Motonosumi shrine located in the city of Nagato, Yamaguchi. It takes less than one hour from Tsunoshima island by car. The shrine was founded in 1955 after a divine message from a white fox god was received, and the benefits are prosperity in business, marine safety, match making and academic achievement and the like.
One of the unique features of the shrine is where an offertory box is installed. Surprisingly, the box is installed on a 6m tall torii gate! A basketball hoop is about 3m tall. Wow! It means that the box is two times higher than a basketball hoop! You would never see people throw coins toward such a highly installed box in other shrines. Shall we try throwing coins when worshipping?
A panoramic view of the Sea of Japan will refresh you after passing more than 100m of the long torii gate tunnel. You definitely feel better by viewing dynamic waves and the beauty of the deep blue. 'Ryugu no Shiofuki', is another attraction, and is a sheer cliff with no fence, splashing sea water like a dragon from an eroded hole. You might see the spraying out of the blowhole if you are lucky!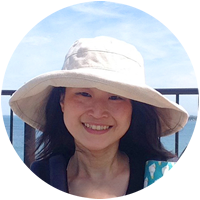 Kaori Ashida
Licensed National Guide, Certified General Travel Services Manager, 1st Grade Instructor of Inbound Tourism. 17 years of experience in the tourism industry, including working as a tour guide in Australia and Canada for Japanese tourists. I love traveling, eating, and taking beautiful pictures!
Are you a travel lover? Do you want to try a new experience? If yes, check out my articles for your traveling tips. Other than being a professional and friendly guide, I share travel information about Japan as a freelance writer.
Note:
The accuracy of information is not guaranteed. Please contact the relevant agencies about the latest information. Unauthorized copying and replication of the contents of this site, text and images are strictly prohibited. All Rights Reserved.
If you have any questions, please feel free to contact us by the website form.
>> General Inquiry