Last Updated on 2021/11/06
You can walk under the torii gates
Oouo shrine is in Tara town, Saga, and its torii gates, which look like they are floating on the surface of the Ariake Sea, fascinate people with their mystic beauty at high tide. The difference in sea level between high and low tides is maximally 6m, which allows us to walk under the torii gates when the tide is low.
Why do you think there are torii gates in the sea?
According to legend, local people suffered under a corrupt administrative samurai officer around 1693. One day, the locals invited the officer to drink sake on Okinoshima island off the coast of the town and left him there. The tide became higher and higher and the panicked officer prayed to the god of the dragon. The legendary fish, 'Namiuo', appeared to rescue him, and carried him on his back.
The officer regretted his bad behavior after that, and constructed Oouo shrine in dedication to 'Namiuo,' and the torii gates as an approach leading to across the sea to Okinoshima island.
The torii gates have been cherished by the locals, who pray for marine security and good fish catches, for more than 300 years to the present day. On the day we visited, local fishermen were repairing the upper part of the torii gates, which is too high when the tide is low.
The main hall of the shrine is located across a road and it takes only 1-2 mins to get there on foot. Don't forget to visit the main hall, too!
Ariake Sea is rich in delicious seafoods
The Ariake Sea is blessed with highly nutritious plankton thanks to the sun shining directly onto the seabed during low tide. The local specialties such as Takezaki crabs, oysters and nori, which is edible seaweed used to roll sushi, are treasures from the Ariake Sea. Why don't you enjoy local cuisine when you visit Tara town?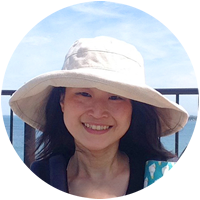 Kaori Ashida
Licensed National Guide, Certified General Travel Services Manager, 1st Grade Instructor of Inbound Tourism. 17 years of experience in the tourism industry, including working as a tour guide in Australia and Canada for Japanese tourists. I love traveling, eating, and taking beautiful pictures!
Are you a travel lover? Do you want to try a new experience? If yes, check out my articles for your traveling tips. Other than being a professional and friendly guide, I share travel information about Japan as a freelance writer.
Note:
The accuracy of information is not guaranteed. Please contact the relevant agencies about the latest information. Unauthorized copying and replication of the contents of this site, text and images are strictly prohibited. All Rights Reserved.
If you have any questions, please feel free to contact us by the website form.
>> General Inquiry