Last Updated on 2021/11/06
Yobuko known for squid cuisine, morning market and sightseeing boat tours
Yobuko in Karatsu, Saga, is a sightseeing spot, famous for its squid cuisine as well as fresh seafood and morning market. There are two popular sightseeing boats, 'Jira' designed as an adorable whale to see sea animals in the water, which is mainly enjoyed by families with small children, and 'Ikamaru', meaning squid, is to enjoy the mystic art of nature called 'Nanatsu Gama'.
Here, let us introduce 'Ikamaru', a sightseeing boat to discover the wonders of nature!
Giant art of nature 'Nanatsu Gama'
Nanatsu Gama is designated as a national natural treasure. Nanatsu Gama means seven rice cookers in Japanese. It was so named because of their appearance of seven caves, which are like big and small rice cookers!
Their distinctive pentagonal and hexagonal-shaped rocks are "columnar joints". They were created by the drastic cooling of massive amounts of volcanic magma, and their unique layers have a chiseled effect. Don't you think its cross section is similar to a honeycomb? You'll be overwhelmed by the giant art of nature!
What a stunning view from the boat!
The boat takes you to one of the caves. It is so exciting to look closely at the bizarrely shaped rocks which you can almost touch in the cave. So dynamic! Water dropping from gaps between rocks is also so thrilling. You'll be fascinated by the stunning view of columnar joints!
The boat operates every hour and each tour lasts 40 minutes. It will be cancelled depending on the weather and high waves. We recommend that you making sure its operating on your planned day.
One more spot for enjoying the Nanatsu Gama is the Genkai quasi-national park located on the Nanatsu Gama hill. There is an observation area, which allows us to overlook the spectacular view of caves. It takes about 15 minutes by car from the center of Yobuko, so, why not add the observation of the quasi-national park as well as the Ikamaru sightseeing boat?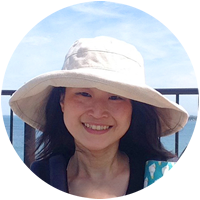 Kaori Ashida
Licensed National Guide, Certified General Travel Services Manager, 1st Grade Instructor of Inbound Tourism. 17 years of experience in the tourism industry, including working as a tour guide in Australia and Canada for Japanese tourists. I love traveling, eating, and taking beautiful pictures!
Are you a travel lover? Do you want to try a new experience? If yes, check out my articles for your traveling tips. Other than being a professional and friendly guide, I share travel information about Japan as a freelance writer.
Note:
The accuracy of information is not guaranteed. Please contact the relevant agencies about the latest information. Unauthorized copying and replication of the contents of this site, text and images are strictly prohibited. All Rights Reserved.
If you have any questions, please feel free to contact us by the website form.
>> General Inquiry