Last Updated on 2023/07/25
Only 70 minutes away from Fukuoka by high-speed boat
I went to Iki Island (Ikinoshima) from Fukuoka on a ferry. By high-speed boat, you can get to Iki in about 70 minutes from Fukuoka. What I was looking forward to was Tatsunoshima Island, which is a deserted island. When I was searching around beautiful beaches in Kyushu recently, thinking if there are any wonderful beaches somewhere, a friend of mine told that the ocean was beautiful in Iki Island. Then I visited the island.
Access from Fukuoka (Hakata port) as of 1 June 2021
For the latest information on the fare and time, please visit the websites.
Iki Island is located on the sea of Genkai, northern part from Kyushu, which has a long history. The island was called Ikikoku, which was an independent state during the Yayoi-era (300 BC – 250AC). The island appeared in the chapter "Gishi" of the Chinese history book, "Sangokushi" or "Sanguozhi" published at the end of third century. Iki Island played an important role as a relay place of maritime transportation which connected Kyushu, China and Korea.
Harunotsuji Ruins (Harunotsuji Archeological Site)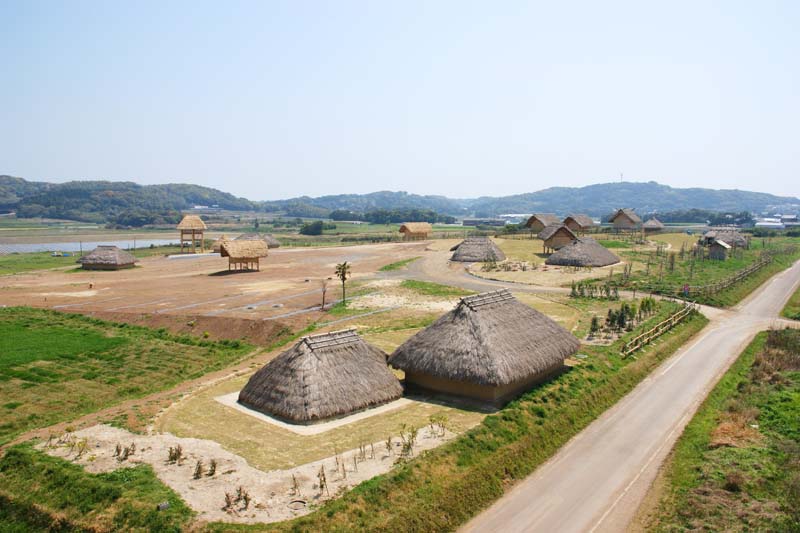 Harunotsuji Ruins in the Restored Imperial Capital Park in the Ikinoshima is the heritage of the settlement that prospered in the Yayoi era. Harunotsuji is regarded as a leading and very important heritage of Japan along with Yoshinogari Heritage in Saga prefecture and Toro Heritage in Shizuoka prefecture
Iki City Ikikoku Museum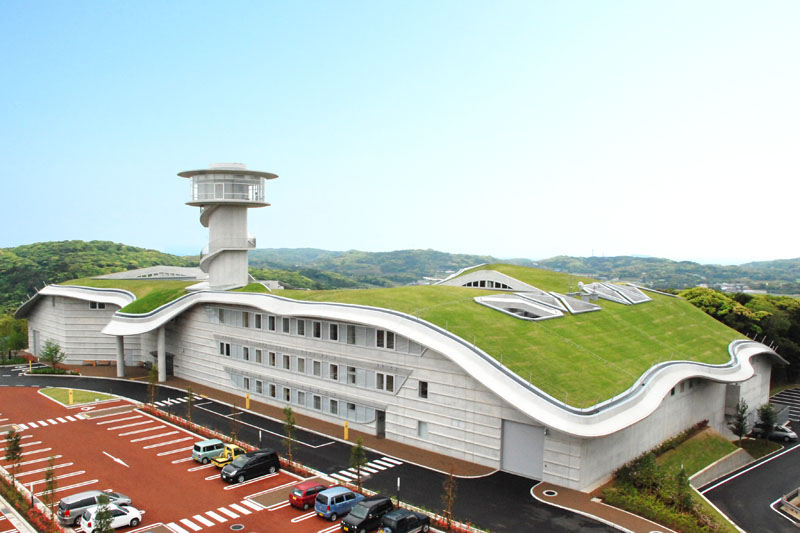 The museum shows the antiquities unearthed from Harunotsuji-Iseki. I recommend the movie of "Ikikoku story" very much. I was very impressed at the last scene of the movie, which I can't tell about now…. I came to like Iki thanks to the movie. The building of the museum was designed by Kurokawa Kisho, the leading architect in Japan and is unique. I kept looking at the building because I like architecture.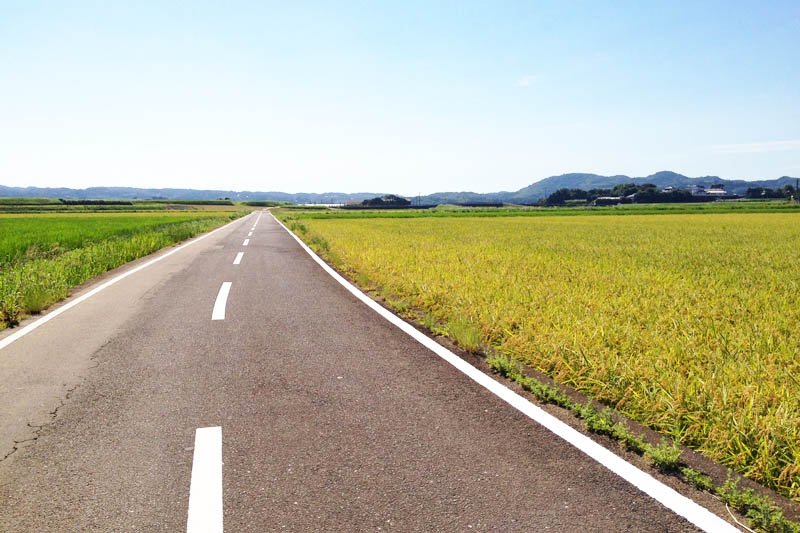 Here many people engage in farming so you can see beautiful rice paddies everywhere in the island. Well, every island sure be nice.
Tourists can rent a bicycle in the island. It's very easy to pedal up a hill because they provide you with an electric bicycle. I didn't use it myself though. It must be nice to ride a bicycle along such a straight road.
Tatsunoshima's swimming beach with its outstanding clarity – One of the best beaches in Kyushu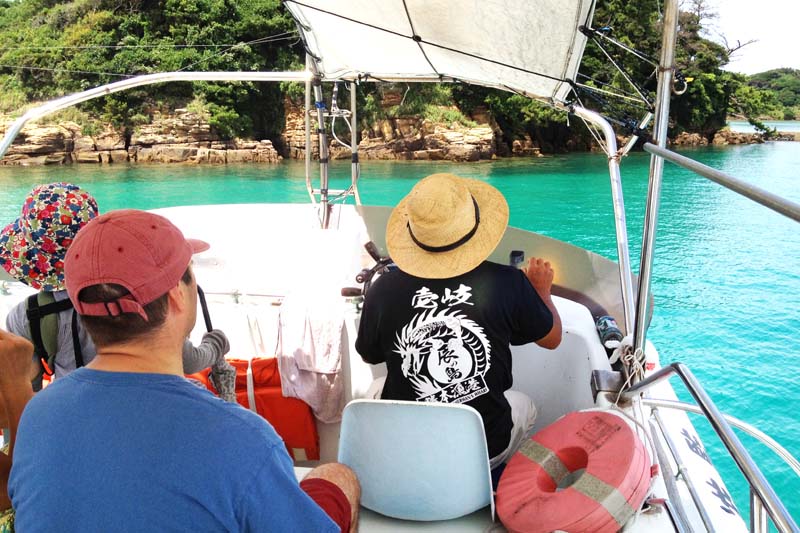 This is the inside of a ferry crossing from Katsumoto Town to Tatsuno Island. The captain, wearing a straw hat and a black T-shirt with the word "Iki" written on it is driving the boat.
The ocean along Tatsunoshima is blue and clear as a friend of mine told me. I think the beach at Tatsuno Island is one of the best beaches in Kyushu. The beauty of the ocean let out my involuntary yell of surprise. "What a beautiful ocean it is!"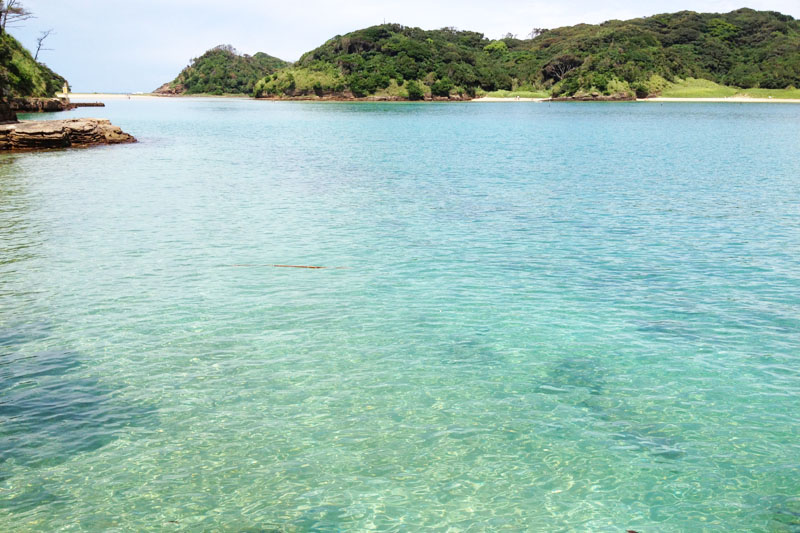 This is the sea at Tatsuno Island in Iki. The sea is so clear that you can see the ocean floor.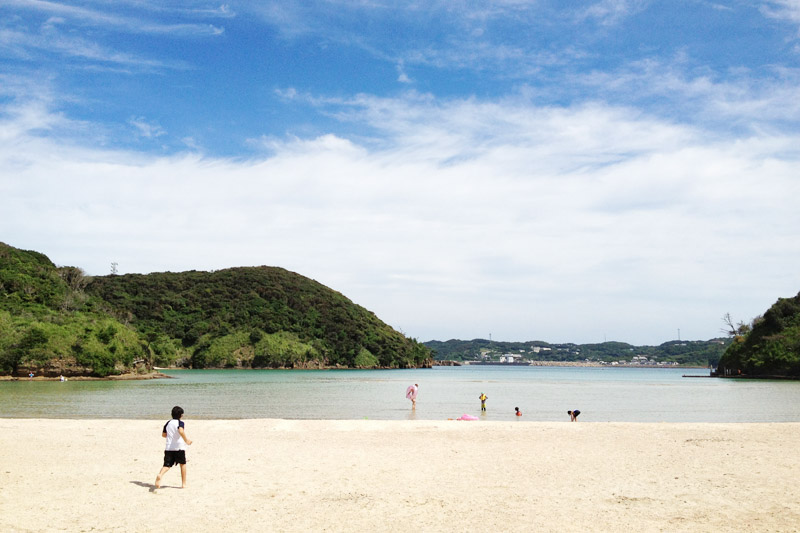 This is a swimming beach on Tatsuno Island in Iki. It is a white sand beach in the bay where children play in the water.
It takes eight minutes by ferry to go to Tatsunoshima from Katumoto-cho that is located in the north end of Ikinoshima. I was there just in summer so I kept swimming at the bathing beach. I wished I could have been here forever.
Tatsunoshima ferry as of July 25th 2023
For the latest information on the fare and time, please visit the website.
Iki Dolphin Park & Resort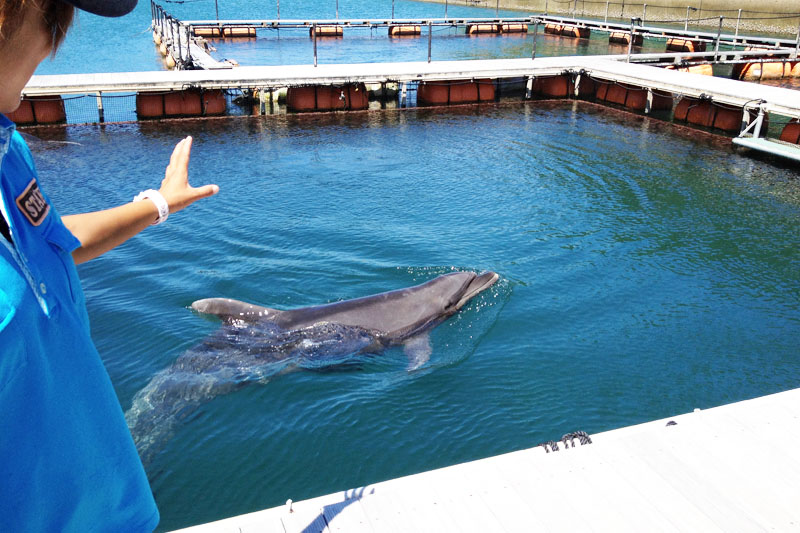 I visited the Iki Dolphin Park & Resort because I like dolphins. It is located 2.5km away from Katsumoto-cho. I could see many cute dolphins up close during the dolphin show and the Fureai-experience, or playing with dolphins. I enjoyed feeding dolphins very much.
Business hours: 9:30 – 17:30
Admission fee: adult: 1,000 Yen, child of junior high school students and elementary school students: 500 Yen
Address: Higashifure 2668-3, Katsumoto-cho, Iki City, Nagasaki
Inquiry: Iki Dolphin Park & Resort TEL 0920 42 0759
For the latest information, please visit the website.
Many ocean sports are available in the island. You can enjoy scuba diving, fishing and surfing.
A roadside bluff in the vicinity of the Dolphin Park "Iki Dodai Ishi"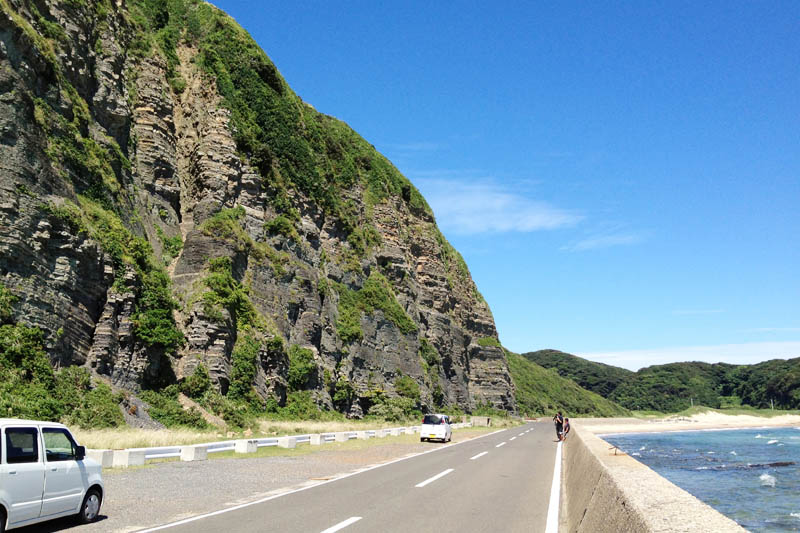 The left side of the road is a cliff called "Iki Dodai Ishi", the Iki Foundation Stone. There are layers of sedimentary layers consisting of shale and sandstone.
Iki is truly an island with a rich history, with the remains of the Yayoi period as well as the geology of the island, where sedimentary rocks from long ago can be seen as outcrops.
The Iki specialty "Uni-don" is a must-eat in Katsumoto Town
There are morning markets in Katsumoto-cho, the fisherman's town. Women from the island sell fish and vegetables. Many old wooden houses stand side by side at an alley so that I could see a real intact piece of scenery of Japan.
Uni-don is a bowl of rice topped with raw sea urchin. It is said that woman divers are busy fishing in Iki and get a lot of sea urchin. I tried the specialty, Uni-don and found it delicious! The Uni-don is the cuisine that is come from the idea of woman divers. I recommend you have Uni-don when you visit Iki.
Get the best steak at Umeshima, a restaurant famous for its Iki beef!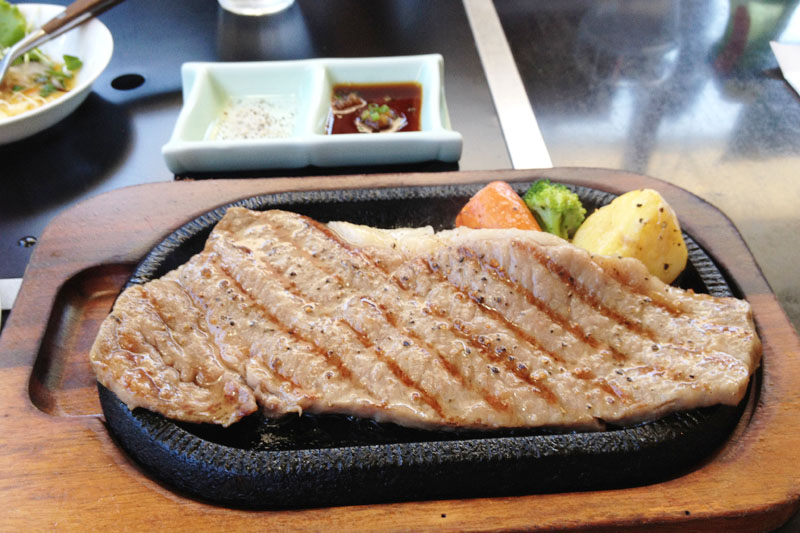 Umesima, a restaurant is famous for Iki-beef, which comes from a cow raised in Iki. Specialties in Iki are Iki-Shochu (distilled spirit), Uni-don and Iki-beef. I tasted all of them. Cows that produce Iki-beef are branded cows and very famous since the old days. Its calf is one of the most branded cows in Japan. It is traded as an original cow for the highest rank cows like Kobe-gyu and Matsusaka-ushi. That is why it must be delicious.
Hot spring in Iki island
Yunomoto Hot Springs, which is located in the west of Iki, consist of six hot springs. They are known as Kodakara- noyu, which means if you take these hot springs then you will have babies plenty. After I took hot springs, I had a smooth skin. They are good for women! There is another hot spring, Yukawa Hot Spring in the vicinity of Gonoura port southern part of Iki. Once you take a hot spring, you feel refreshed instantly.