Last Updated on 2021/06/18
A good farmhouse Guza
Don't you sometimes feel like getting away from your busy city life to refresh yourself? When I feel that way, I go to Mitsuse in Saga prefecture. Mitsuse is only about one hour drive away from the central part of Fukuoka city. It is a beautiful village.
My favorite place in Mitsuse is "Guza", a guest house run by a farming family. Guza is a pioneer of green tourism in this area. I feel at home there because the whole family always welcomes us with big smiles. I feel like that I am visiting one of my relatives.
We stayed at the renovated old barn. It was a very cold day but the inside of the house was very comfortable because they had kept the room warm by firing up a wood-burning stove and a hearth for many hours before our arrival.
They told us that their backyard mountain bike trail with a treehouse was almost ready to open. So we walked there to see it. The trail runs about 2km through the bamboo forest. In the middle of the course is a treehouse.
It must be exciting to ride a mountain bike here. The great thing is that you can rent mountain bikes at a rental cycle shop in Mitsuse.
Mitsuse Rental Cycle (English information is available.)
https://www.facebook.com/327cycle/services
An old Japanese-style metal bath "Goemonburo" experience
We decided to take a bath before dinner. Guza has a goemonburo, an old Japanese-style metal bath. It is made of cast iron and is heated directly by a fire underneath the bath. The host, Mr. Fujise went to a mountain behind their house and cut bamboo for us. Each of us made our fire-breathing bamboo. It worked like a charm in starting the fire! It was fun to heat the water for the goemonburo.
The bottom of the goemonburo got extremely hot so I had to step on a board to soak in the bath. It warmed me up! No less satisfying than a hot spring!
The heart of hospitality lies in self-sufficiency
Then, dinner time came. Tomo who is a neighbor of Guza came to help cook. She joined us for dinner too. Guza's motto is "the heart of hospitality lies in self-sufficiency." Included in the meal were various seasonal vegetables from their farm. The dishes made with fresh local food such as Japanese daikon radish, lotus root, taro, turnips were so tasty!
We had dinner in front of the woodstove that day. They sometimes serve dinner surrounding the hearth baking and heating food there.
Drinking doburoku, home-brewed sake, Mr. Fujise happily told us where he found the watercress which we had at the dinner. He knows all about wild edible greens. We ate plenty and laughed a lot together. It was a great dinner.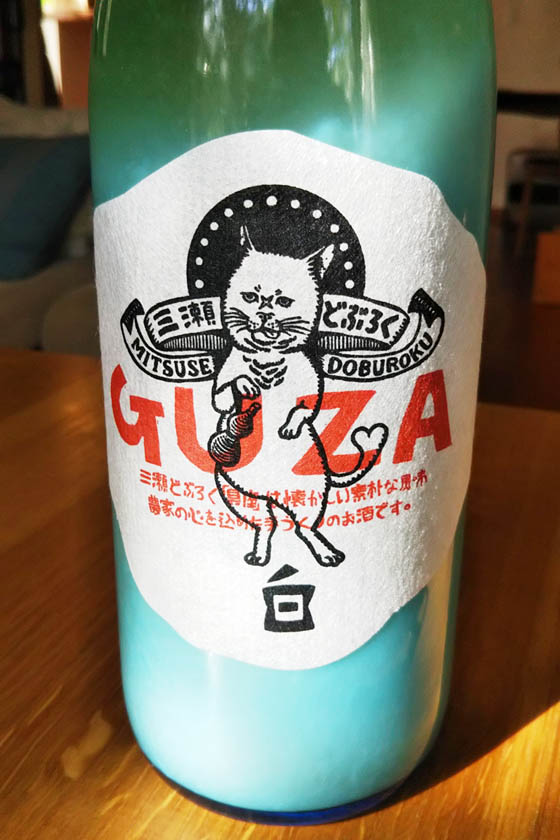 We got up early the next morning. Coming back from a walk in the cold and crisp air, the breakfast was ready. Miso soup, a traditional Japanese soup with a lot of vegetables completely warmed us up. Everything was so delicious!
Now, Guza has a plan to build a camping site in the mountain behind the house. It will take a little while to complete it. There are many spots we can pitch a tent around their house. I might bring my tent next time.
The picture below is the pizza oven Mr. Fujise made. At Guza, various farm experiences such as mushroom hunting or blueberry picking are possible as well as baking a pizza.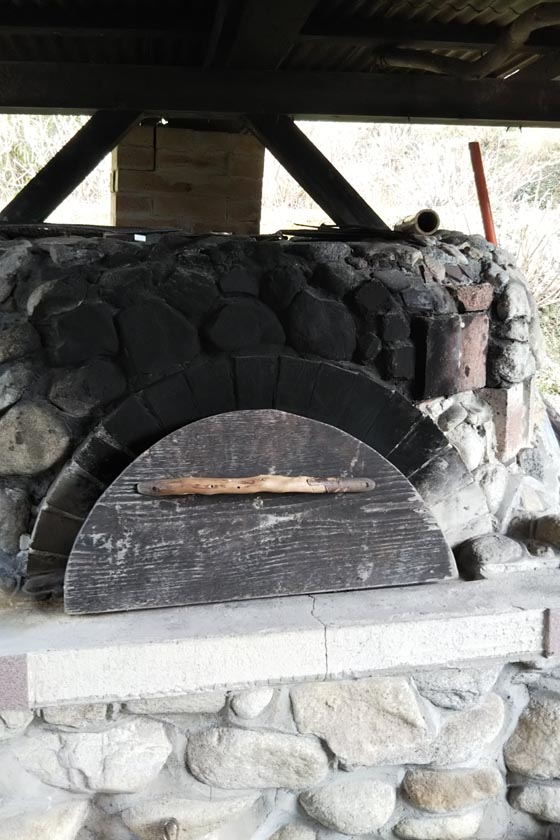 A traditional Japanese paper workshop "Nao Washi"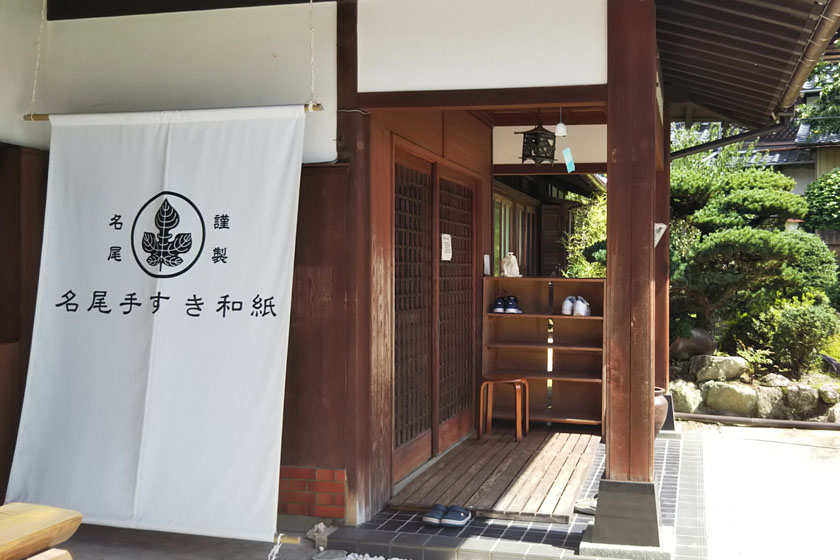 After breakfast, we left for our next destination, Nao Washi, a Japanese paper workshop and gallery in a renovated 200-year-old Japanese house, which is about 15 minute-drive from Guza.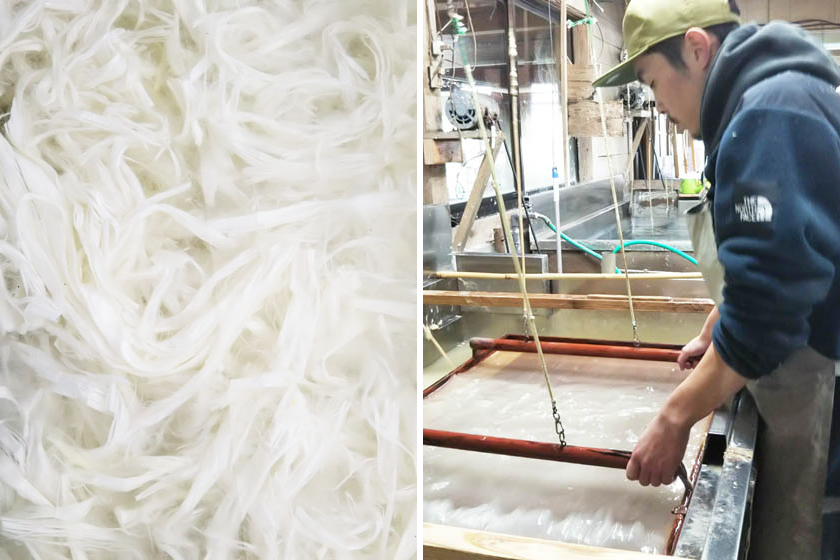 Nao is the name of the area and Washi means traditional Japanese hand-made paper. Washi paper is deeply ingrained in Japanese culture. It is used not only for letter writing and books, it goes beyond that. It is used for sliding doors, lanterns, folding fans, umbrellas, and so on.
Washi in this area has 300 years of history and designated as an important intangible cultural property in Saga Prefecture.
In the workshop, young paper craftsmen courteously explained the washi making process. The picture on the left is the bark of Kaji tree soaked in clear water. Kozo tree is commonly used to make paper but here they use Kaji tree as row material for paper because they grow naturally in this area. Kaji enables to make thin and strong paper.
They receive orders from all over Japan. It is used for lanterns and floats in traditional festivals such as Kyoto Gion Festival and Hakata Yamakasa Festival. The picture below is Hime Daruma dolls in Oita Prefecture made from Nao Washi.
More than 100 farmers were once engaged in making washi. However, this Nao Washi workshop is presently the only one keeping up the tradition.
No matter how many times I visit Mitsuse, there is always something new to discover. Mitsuse is a great place to enjoy nature. Digging bamboo shoots in spring, playing in the river in summer, apple picking in fall, and many others. There are some excellent restaurants, too! My advice is to check their non-working day before you go. Many of the shops are closed on Wednesdays.